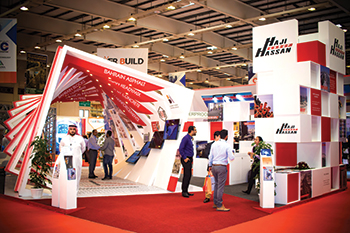 Haji Hassan, Al Bilad win best stand awards
February 2019
Haji Hassan Group, a diversified construction-focused group based in Bahrain, has won the best stand award at Gulf Construction Expo 2018 held in Manama, said the organiser Hilal Conferences and Exhibitions (HCE).
Gulf Construction Expo, the Northern Gulf's leading expo for construction and building materials, is held annually in conjunction with two other major events Gulf Property Show and Interiors Expo providing the biggest integrated business-to-business showcase for the construction, interiors and property sectors ever to be staged in the Northern Gulf.
"The Best Stand Award recognises the imagination and implementation of a marketing vision to promote an exhibitor's products and services," remarked Jubran Abdulrahman, the managing director of HCE.
"Haji Hassan Group is a founding company in the construction and building sectors in Bahrain. Their stand at Gulf Construction Expo was voted number one via the Facebook poll. The company set high standards for our exhibitors to aspire to for the upcoming 2019 event," he stated.
This year's Gulf Construction Expo will run from April 23 to 25 at the Bahrain International Exhibition and Convention Centre under the patronage of HRH Prime Minister Prince Khalifa bin Salman Al Khalifa.
Meanwhile, Bahrain-based Al Bilad Real Estate Investment Company, the master developer of the Water Garden City project, has topped the Facebook polls for the best stand award at the Gulf Property Show 2018, boutique showcase for the real estate and property development sectors in the Northern Gulf region, said HCE.
Al Bilad Real Estate Investment Company's stand representation of Water Garden City, beat off strong competition from a shortlisted field of eight other developers, said the organiser.
Al Bilad's Water Garden City stand was designed by Albilad marketing team and built by Pico.
Commenting on the win, Lina Mubarak, the head of marketing and communications at Al Bilad Real Estate Investment Company, said: "We are delighted to have won this award and particularly proud to have been voted best stand at one of the most important property shows in Bahrain Gulf Property Show 2018."
"This recognition confirms that we've been successful in presenting our ingenuity and creativity in showcasing our company's branding identity and offerings. Thanks to Hilal Conferences and Exhibitions for initiating this award and special thanks to all who voted," she stated.
Al Bilad Investment Company was presented with the award at the opening of the Gulf Property Show at the Avenues – Bahrain last November.
More Stories