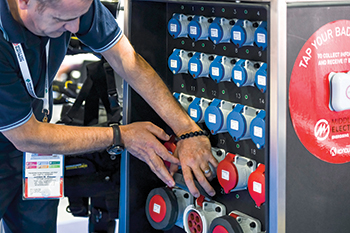 MEE to shine light on latest trends
February 2019
Middle East Electricity (MEE), the region's leading expo for the power industry, will shed light next month on the latest trends and growing opportunities to meet the soaring demand for power, at this year's edition – its biggest event to date.
The exhibition in Dubai, UAE, will see the region's most recognised names in the power sector, energised start-ups and trailblazing national delegations, who will demonstrate technological breakthroughs to meet the fast-growing demand for electricity, diversification and conservation.
The annual mega event, which combines five dedicated shows – power generation, transmission and distribution, lighting, solar, and energy storage and management – within a single exhibition, will run at Dubai World Trade Centre from March 5 to 7.
"Massively upscaled demand, supply diversification and conservation have helped to create enhanced opportunities for industry players and boosted the potential of the region's power industry," explained Claudia Konieczna, exhibition director – Informa Industrial Group, the organiser.
She said the unprecedented demand for power will see industry players, large and small, new starters and established leaders, utilise MEE's unique platform to engage visitors in game-changing, across-the-board opportunities throughout the show's five focused sectors.
"Analyst expectations for the region put the exhibition in the top global league of power investment, which explains why international interest in the show keeps rising annually," she concluded.
More Stories