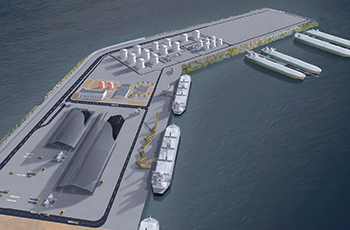 Optimistic outlook
The sultanate's construction industry is on the upswing. With some major projects initiated and others under way, the economy is well on its way to diversification.
February 2019
This year is expected to be one of the best the sultanate's construction industry has seen in recent times: key projects in the real estate, tourism and industrial sectors will provide the much-needed impetus to the sector, where a number of big-ticket projects were kick-started last year.
Work was launched late last year on the redevelopment of the historical Mina Sultan Qaboos (MSQ) port into a $2-billion integrated mixed-use waterfront destination – a landmark development indeed initiated through a public-private partnership with a UAE developer. Spearheading its development is Oman Tourism Development Company (Omran), which is also the brains behind the RO5-billion ($13 billion) Madinat Al Irfan development, which has seen increased momentum following its partnership with another UAE real estate firm.
Work has also commenced on the $7-billion Duqm Refinery, the centrepiece of the Special Economic Zone in Duqm (SEZ), which itself is a major enabler in the sultanate's ambition to diversify its oil-reliant economy.
Hence, the outlook for this year looks positive, also given the fact that the government has allocated RO3.7 billion for infrastructure development, industrial and services projects in the 2019 budget. This includes RO1.2 billion for infrastructure developments, which are overseen by various government units; and RO2.5 billion to be utilised by state-owned enterprises for the implementation of projects in industrial and services sectors, according to a Muscat Daily report.
Citing a budget statement issued by the Ministry of Finance, the report said the government is focused on development spending to enhance the investment climate and enable the private sector to play greater role in projects and job creation, and does not intend to cut spending to ensure the completion of all ongoing development projects. Among the strategic projects cited are the construction of hospitals in Salalah, Khasab, and Suwaiq; water networks in a number of wilayats; catering facilities, air cargo terminals and aircraft maintenance hangars at Muscat International Airport and Salalah Airport; Al Sharqiyah Expressway and Adam-Thumrait road dualisation projects; infrastructure projects for Liwa City Housing Complex; housing in Batinah and Salalah; and schools.
In fact, Fitch Solutions maintains its bullish outlook for Oman's construction sector, expecting it to be one of the best performing industries on a global basis, and anticipates this growth to be broad-based, spanning the infrastructure spectrum of transport, energy, and residential and non-residential construction.
In its latest infrastructure report on Oman, the leading provider of credit, debt market, and macro intelligence solutions forecasts a construction growth of 11.5 per cent in 2019 and 9.4 per cent on an annualised basis from 2019 to 2023.
Given Oman's location, political stability, and favourable regulatory environment, it expects robust interest from international investors in the country's infrastructure assets and development potential.
Oman was one of the first countries in the region to embark on a diversification strategy to garner new revenue streams apart from oil – which still accounts for some 74 per cent of its earnings. Industry and tourism are among the key sectors currently being explored, while the sultanate intends to maintain its focus on infrastructural development as demonstrated by its 2019 budget which projects a three per cent increase in spending.
While the volatility in oil prices remains a challenge, Oman will continue to pursue private sector participation to drive forward its ambitious infrastructural development plans, particularly in boosting its power generation and water desalination capacity, and expanding its road and transport network including airports, railways and sea ports.
Also in line with global trends, the sultanate's energy sector is witnessing a significant shift towards renewables. A number of solar energy projects are being developed, while wind power will also be important with one such project in Dhofar expected to come online next year, and two others earmarked for Duqm and Sur.
Airports & Ports
Oman officially launched its fourth regional airport last month at Duqm, located 550 km from the capital Muscat. The airport has a capacity of half a million travellers annually, which can be expanded to two million.
Other airports at Muscat and Salalah are set for expansion following an allocation in this year's budget. Plans include construction of catering facilities, air cargo terminals and aircraft maintenance hangars at both these airports.
The sultanate is also slated to see growth in its sea ports segment with a new commercial port on the cards for Sur following the completion of a feasibility study. The container port will serve industrial facilities such as the LNG plants and Omani India Fertiliser Company at the Sur industrial base, which continues to expand with four new factories having entered the production phase, and plans afoot to establish 24 projects there.
Meanwhile, further south, the Port of Duqm has entered an early operations phase with a fully functional port and commercial quay capable of handling cargo and containers. More than 90 per cent of the port-related projects, protection works, a dam, discharge channels, roads and other aspects have been already completed.
With its deep draught (18 m), lengthy quay walls and expansive basin, the world-class multipurpose commercial gateway has a current capacity of 200,000 TEUs, four million tonnes of dry bulk, and one million tonnes of project, break bulk and heavy lift cargoes.
Shell Oman Marketing Company has recently signed an agreement with Port of Duqm Company (PDC) to develop fuel bunkering facilities and services at the port.
Roads & Railways
One of Oman's largest road construction projects was opened in December. The 270-km-long Batinah Expressway that extends from the end of Muscat Expressway in Halban to Khatmat Milaha in Shinas, was completed under six phases. The expressway is now being further extended with the launch of Phase Seven.
Work is also under way on the 116-km-long Sharqiyah Expressway that spans from Bidbid in A'Dakiliyah to Ibra in northern Sharqiyah. The project is scheduled for completion later this year.
Another strategic project that has been completed is the Oman-Saudi highway, the first-ever direct land link between the two neighbouring countries. The new road saves more than 800 km of the journey.
Meanwhile, Oman Rail is examining the feasibility of a 375-km rail line to transport minerals from the sultanate's mining hubs to the port of Duqm.
Power & Water
Over the past decade, Oman has been steadfastly pursuing the path of privatisation in its power and desalination sector. Among such recent projects, the greenfield Salalah 2 IPP (independent power project), with an aggregate capacity of 445 MW and involving an investment of $465 million, was inaugurated by its developer Acwa Power.
The plant has been designed for a lifecycle of 30 years and adds to the capacity of the existing 273 MW plant in Raysut.
The sultanate has also been making impressive strides in transitioning away from gas-based electricity generation. Current plans include the development of four utility-scale solar-based projects worth RO616 million ($1.6 billion) at key locations over the next five years. These renewable energy projects will boast a total capacity of 1,600 MW, according to the Oman Observer.
The first IPP, sized at around 500 MW – Ibri II Solar IPP – will come up in Ibri by 2022. This will be followed by 'Solar 2022' and 'Solar 2023', which are due to come on stream by 2022 and 2023 respectively. The second utility-scale solar power plant – Solar 2022 IPP – with a 1 GW capacity is planned for the Dhahirah governorate.
Oman Power and Water Procurement Company (OPWP) aims to procure more than 2,600 MW of renewables-based power generation capacity by 2025, in line with a commitment to ensuring that renewables account for at least 10 per cent of total generation capacity.
In the oil sector too, a number of solar energy projects are being actively pursued. US-based GlassPoint Solar has signed a deal with Occidental of Oman for the development of a 2-GW solar thermal energy plant at the Mukhaizna oilfield. Engineering work has commenced to define the project scope and field integration plans, according to GlassPoint which will deploy its proven solar technology to produce up to 100,000 barrels of solar steam per day.
Late last year, Petroleum Development Oman (PDO) awarded a contract to build a 100 MW solar photovoltaic IPP project to a Japanese-Omani consortium, comprising the Marubeni Corporation and Oman Gas Company, Bahwan Renewable Energy Company and Modern Channels Services. The plant, which will provide power for PDO's interior operations at Amin, will be the world's first utility-scale solar project to have an oil and gas company as the sole wholesale buyer of electricity.
PDO has already ventured into solar energy with the large Miraah solar plant in Amal, which it is developing with partner GlassPoint Solar to produce steam for thermal enhanced oil recovery. It is also installing thousands of solar panels in car-parks at its Mina Al Fahal headquarters to power offices and feed into the national grid during non-working hours.
In the water desalination field, OPWP intends to build Oman's biggest greenfield water desalination project in the Ghubrah area of the capital. With a capacity of 66 million gallons per day, the independent water project (IWP) will surpass in size and capacity two massive IWPs currently under construction at Barka (the 62 million gpd Barka VI scheme) and Sohar (55 million gpd Sohar IWP). OPWP is finalising the request for proposals (RFP) for the project. The Ghubrah 3 IWP project is scheduled to come on stream in the first quarter of 2022.
In the wastewater sector, Oman Wastewater Services Company (Haya Water) – a government-owned water reuse organisation – has unveiled a RO6-billion ($15.58 billion) masterplan for future sanitary drainage projects, which cover all parts of the sultanate except the Muscat and Dhofar Governorates, an Oman News Agency report said.
The 2018-2045 masterplan seeks public-private partnership and aims to increase the number of water treatment plants to 133 with a total capacity of 979,000 cu m per day to serve about 4.1 million people by 2045. The first stage includes 21 water treatment plants with capacities ranging between 10,000 and 85,000 cu m per day. The plants will cover 70 per cent of the sultanate's population in nine governorates.
Among the projects under way is the third and final phase of the Al Ansab sewage treatment plant (STP) expansion project. Phase Two, completed last August, took the plant's capacity to 125,000 cu m per day, while Phase Three will take it to 140,000 cu m per day by the end of 2022.
Industry/Economic zones
In a bid to diversify its economy, Oman has been spearheading the development of economic zones, primarily in Duqm, Sohar and Salalah. Also announced recently are plans for the new Khazaen Economic City (KEC) in South Al Batinah governorate.
KEC is a joint venture between Oman Investment Corporation (OIC) and the Saudi-based Mohammed Ali Al Swailem Group (Masco) set up in March last year.
Atkins has been appointed at the lead consultant for the masterplanning, design and supervision work on the 51.5-million-sq-m city, which is the only integrated economic city within 60 km of Oman's capital, and the second integrated economic city in the sultanate after the Special Economic Zone in Duqm (SEZ).
Meanwhile, major developments are under way at SEZ including the construction of the $7-billion Duqm Refinery and key infrastructure works such as a service corridor for the refinery products and two roads at Duqm Port. Work started last year on three engineering, procurement and construction (EPC) packages worth $5.75 billion for the 230,000-barrels-per-day (bpd) refinery project. These comprise process units of the refinery, the utilities and offsite facilities and the product export terminal at Duqm Port.
Among other projects at Duqm, work is under way on two buildings for the Sino-Oman Industrial City, which is expected to draw more than $10 billion investment by 2022 while Oman Cement Company (OCC) intends to set up an integrated cement project in SEZ.
In Sohar, work is under way on the Liwa Plastics Industries Complex (LPIC).
Other major industrial projects currently on the anvil for the sultanate include a greenfield chlor-akali PVC plant coming up 150 km southeast of the Omani capital Muscat. SNC-Lavalin is responsible to design and deliver the $1.5-billion project, for which the engineering, procurement and construction management (EPCM) contract is expected shortly.
Real Estate
Omran and top Dubai property group Damac have jointly started the groundwork for the transformation of the historical Mina Sultan Qaboos (MSQ) port into a $2-billion integrated mixed-use waterfront destination. Featuring a host of amenities including hotels, residences, food and beverage, retail and entertainment offerings, the project is in line with the National Strategy for Tourism 2040. The joint venture also announced plans to house an on-site discovery centre by H1 of 2019.
Omran has also tied up with Majid Al Futtaim for the RO5-billion ($13 billion) Madinat Al Irfan, Muscat's new 'City for the Future'. As the master developer of the 4.9-million-sq-m core of Madinat Al Irfan, Majid Al Futtaim is currently crafting the first phase of the masterplan covering 250,000 sq m, which will be developed over the next five years. When complete, this phase will serve as the new urban centre for Muscat. In Madinat Al Irfan East, the Oman Convention and Exhibition Centre (OCEC) is now close to completing work on its key component – the convention centre (see Page 52).
Meanwhile, a number of Oman-based real estate developers have reported progress on their key developments:
• Majan Development Company started work last year on Phase Three of its mixed-use project, Al Muzn, located opposite Al Mouj Muscat area in Mawaleh North. The development will boast a 127-unit high-rise complex. The residential project is an extension of the mixed-use Al Muzn complex and is being developed following the near completion of work on the commercial centre Al Muzn Mall and a three-star hotel, which will open during the first quarter of 2019.
• Zain Property Development has launched the construction of Al Muna Gardens, the first-ever green residential complex in the heart of Muscat. It consists of 122 villas divided into four categories and surrounded by green spaces.
• Muriya – a joint venture between Orascom Development Holdings and Omran – is developing the Jebel Sifah Heights project which was designed by world-renowned architects North Point.
• Al Raid Group has recently launched work on the 240,000-sq-m Al Araimi Walk in Barka. The project, dubbed as the nation's first-ever retailtainment destination, will feature 164 retail outlets, 42 food and beverage outlets, seven entertainment hubs, a hypermarket, and an IMAX cinema. The Al Araimi Walk will boast a four-star hotel, an indoor water park, a large ski circuit and a kilometre-long walkway. It will open its doors by September 2020.
More Stories