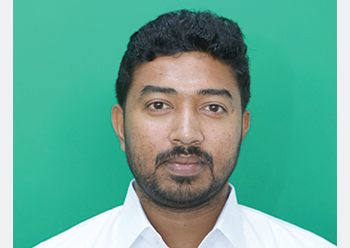 Solar heaters market rides on green policies
February 2019
An increasing number of solar water heaters (SWHs) are being installed in the GCC region, giving a boost to the market segment, which is yet to realise its potential, according to Ullek Nair, solar water heater specialist at Corys Build Centre, a UAE-based provider of mechanical, electrical and plumbing (MEP) systems.
Citing the market research firm IMARC Group's latest report, entitled 'GCC Solar Water Heater Market: Industry Trends, Share, Size, Growth, Opportunity and Forecast 2018-2023', Nair says the market for SWHs reached a volume of 3,662 MWt in 2017, growing at a compound annual growth rate (CAGR) of more than 32 per cent during 2010-2017. The market is expected to more than double in volume to around 7,593 MWt by 2022, he says.
Recent studies have shown that the UAE alone will require around 70,000 SWHs in the next five years to help meet its sustainable goals, and authorities in both Abu Dhabi and Dubai have mandated their use in new developments, he adds.
Nair says this trend is propelled by efforts in the UAE in the past few years to pursue a greener future with the development of solar technologies. For instance, Dubai Clean Energy Strategy 2050 aims to make Dubai a global hub for clean energy and green economy, by providing seven per cent of Dubai's total power output from clean resources by 2020; 25 per cent by 2030; and 75 per cent by 2050.
"Additionally, UAE-led solar projects have significantly contributed to reducing the cost of opting for solar energy around the world. The aim is to reinforce national and global sustainability efforts in support of the United Nations' 17 Sustainable Development Goals (SDFs) to be achieved by 2030 and the UAE Vision 2021," he adds.
Explaining in a nutshell how SWHs work, Nair says the systems heat water by converting sunlight into heat energy. With year-round sunshine, the UAE is well placed to take advantage of its solar power.
He says: "With solar power being a renewable energy source, a SWH can help individuals save money on their electric bills – saving energy, saving money and saving the environment."
On average, according to sources such as the US Department of Energy, it can reduce water heater utility bills by more than 50 per cent, he adds.
In addition, maintenance costs are minimal. Global studies have demonstrated that SWHs last for around 20 years, meaning a much longer life expectancy than other types of water heating systems.
And despite initially higher costs to purchase SWHs, when compared to electric versions, the reduced maintenance costs, lower energy consumption and longer life span ensure that it is a smart investment for the long term, Nair points out.
Since installations differ from project to project, people looking to install these sustainable and environment-friendly systems should consult experts. All companies must be registered providers, so it is important to check that work is conducted by an approved installer, he adds.
Well-known brands like Ariston are certified and offer excellent quality, with fast connection to hydraulic pipes and installation options such as supporting frames that allow easier on-roof installation.
"By investing in a solar water heater, people can help the UAE government towards its vision for a greener future. Currently, Abu Dhabi and Dubai are leading the way across the UAE in promoting the use of solar water heaters, and the entire nation is adopting the trend," says Nair.
According to the IMARC Group report, the UAE is one of the leading countries in the region in the installation of solar water heaters, along with Saudi Arabia, as the Middle East aims for greater sustainability in its energy mix.
Corys Build Centre provides traders and contractors an integrated, multichannel approach to the building materials sector. With locations in Dubai, Al Ain, Sharjah, Abu Dhabi, Fujairah and Ras Al Khaimah, plus its recent new outlet in Mabella, Oman, the company offers construction and MEP professionals a "one-stop shop" for a broad range of branded products and professional service.
More Stories