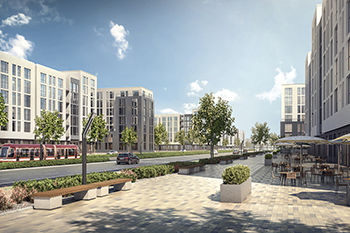 Aldar launches $545m mixed-use project
February 2019
UAE-based Aldar Properties has launched its newest Dh2-billion ($545 million) freehold development, Alreeman, in the Alshamkha area of Abu Dhabi.
With investment zone status, and located in close proximity to the Abu Dhabi International Airport and key arterial highways, Alreeman offers residential and commercial land plots available for purchase by all nationalities.
The mid-market, mixed-use development is spread over an area of 2.8 million sq m with convenient transportation links, says Aldar. The plots include a series of residential clusters that will feature single and multi-residential villas and apartments, complemented by retail space, food and beverage (F&B) outlets, mosques, sports, education and commercial facilities to meet the needs of the future community.
Construction is expected to begin later this year with infrastructure-enabled land targeted for handover to customers in 2021.
Sales of the plots started last month with prices starting from Dh690,000 for villa plots and Dh4.69 million for commercial plots.
A key feature of Alreeman is the purchasers' ability to design their property according to their exact specifications within the approved GFA limits, it states.
CEO Talal Al Dhiyebi says: "The launch of Alreeman builds on Aldar's successful development strategy and expands our focus into new areas of Abu Dhabi. Catering to the mid-income segment, this development responds to market demand to live in a desirable community with a wide range of facilities while also appealing to investors looking to construct apartment buildings or villas to generate recurring income."
Maan Al Awlaqi, the executive director (commercial) at Aldar, says: "On the back of our successful mid-market developments - the Bridges, Waters Edge and Alghadeer, – we are witnessing significant pent up demand for mid-market land plots."
"Offering smaller, more efficient sizes in a desirable up-and-coming location, with ready infrastructure, and places of interest in the vicinity, Alreeman represents compelling value. Its location, expected appeal with investors as well as end-users makes Alreeman a fantastic opportunity for purchasers of all nationalities," he notes.
The development is in close proximity to some of Abu Dhabi's major infrastructure projects and lifestyle destinations, including Yas Island, Zayed City, New Al Falah, Masdar City, Mohammed Bin Zayed City and Abu Dhabi Airport Free Zone.
Alreeman will provide a network of walkable gardens, high-quality parks, open spaces interwoven with greenery and cycle tracks.
More Stories