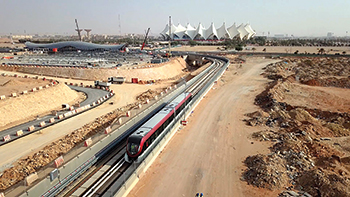 On the fast track
Work is well over three quarters complete on the highly prestigious Riyadh Metro project, where the focus has been on using state-of-the-art technology and expertise, while ensuring safety and sustainability of the development for the kingdom's future generations.
March 2019
The ambitious Riyadh Metro project – among the largest infrastructure developments under way worldwide – is now more than 75 per cent complete, with work in progress on all six lines of the $22.5-billion project in the Saudi capital.
Currently, trains are test running in UTO (unattended train operation) mode on Lines Two, Three and Four of the project, a spokesman for the Riyadh Development Authority (RDA) tells Gulf Construction.
Riyadh Development Authority – previously the Arriyadh Development Authority, the executive arm of the High Commission for the Development of Arriyadh – is the Saudi government body that is spearheading the development of the Riyadh Metro.
The metro is the backbone of the $27-billion King Abdulaziz Project for Riyadh Public Transport (KAPRPT), believed to be the world's largest integrated metro and bus project that has been designed to meet all existing and expected mobility requirements of Riyadh.
The KAPRPT is expected to have a transformative impact on the Saudi capital city, given that only two per cent of its residents use public transport. It involves the creation of a world-class public transport network fit for a global city, economic powerhouse and host of the prestigious G20 Summit in 2020.
The Riyadh Metro network consists of six lines with a length of 176 km, and is designed to high technical and design specifications, including the use of an automated train system (driverless). It is projected to carry some 1.16 million people every day when fully operational, rising to 3.6 million within 10 years.
Complementing the metro is the other key component of the KAPRPT, the Riyadh Bus network, which includes 80 lines extending over 1,890 km.
Riyadh Metro
The Riyadh Metro will connect residential and commercial districts across the capital city, as well as public facilities, universities, hospitals and transport and economic hubs such as King Khalid International Airport and King Abdullah Financial District (KAFD). It includes 85 main and typical stations, seven depots, maintenance centres and 21 park-and-ride facilities. The world-class transport system is expected to start operations in 2019-end/early 2020.
Four stations on the network – King Abdullah Financial District, Olaya, Western Station and Qasr Al Hokm Downtown –are 'iconic' both functionally, thanks to their multi-modal connections between metro, bus and park-and-ride facilities and 'green' technologies, and architecturally by their powerful designs, cultural significance and long-term impact on Riyadh's civic identity.
The remaining 81 metro stations are functional, comfortable and sustainably designed, being air-conditioned, wi-fi-enabled, and having advanced passenger information systems. Solar panels and natural light will help reduce conventional power demand from air-conditioning and lighting by up to 20 per cent.
Work is progressing on the stations which will be increasingly visible over the next phase, says the RDA spokesman.
Erection of all the viaducts for the metro project was completed in the third quarter of last year, while all the deep tunnels were completed in early 2017.
"The scale of the project, being developed over a short time period, is great, covering one of the world's largest capital cities," says Tariq Al Fares, chief executive officer of the RDA. "It is precise in nature, with high-level design and technical specifications, and is being developed in harmony with the city's social, environmental and urban characteristics."
Commenting on some of the challenges encountered, Alwalid A Alekrish, vice-president, projects and programs at the RDA, says the metro project utilised three different technology types in tunnelling and viaduct construction, whereas most other projects use one or two.
"We had to ensure the supply chain was capable of supporting and delivering them. We have pushed capabilities hard," he says.
The next issue was integration. He elaborates: "When civil works on a line finish, all we have are structures and holes in the ground. It requires a huge amount of work and careful planning to turn these into a working railway.
"For example, high-voltage switchgear which controls train power must be located in clean rooms to operate most effectively. So, the electrical fit-out at a station cannot start until equipment rooms are completed, dry and relatively dust-free. This requires contractors to carefully manage how works are delivered, with proper sequencing and controls."
To carry out the project in the heart of the capital means ensuring minimal disruption to the operations of the city. Hence, in the early stages of the project, traffic diversions were implemented to allow utilities to be moved. Work was then commenced on the construction of the stations and tunnels and viaducts.
"Now we are working to put the city back together. As part of this, we are improving streetscapes with new paving, kerbs and soft landscaping. This can be disruptive, so we are doing it in stages," Alekrish adds.
Work on the metro was awarded under design-and-build (DB) contracts to three international consortia in 2013. These include BACS (Package One worth $10.1 billion), ArRiyadh New Mobility (ANM) (Package Two, contract value $6.85 billion) and FAST (Package Three, valued at $7.9 billion).
Each consortium comprises contractors specialised in complementary metro design and construction disciplines including tunnelling, viaducts, track works, operations and control systems, electrical and mechanical works, design, project management and rolling stock.
The BACS consortium comprises Bechtel (US), Almabani General Contractors (Saudi Arabia), Lebanon-based Consolidated Contractors Company (CCC) and Siemens (Germany). The ANM group is led by Italian construction group Salini Impregilo and includes partners Larsen&Toubro (India), Nesma (Saudi Arabia), Ansaldo STS (Italy), Bombardier (Canada), Idom (Spain) and WorleyParsons (Australia). The third consortium, FAST, is led by Spanish construction group FCC with partners Samsung C&T (Korea), Alstom (France), Strukton (The Netherlands), Freyssinet (Saudi Arabia), Atkins (UK), Typsa (Spain) and Setec (France).
RMTC – which combines the might of three world-leading transit programme and construction management consultants Parsons Corporation of the US, Egis of France and Systra, also of France – is overseeing the work of the BACS and ANM consortia, as well as providing design review and construction oversight for RDA.
According to RMTC, Lines One, Two and Three, which are being built by the 40,000-strong BACS and ANM crews, include some of the most technically demanding downtown sections.
"Line One is the toughest of the tough," says John Rinard, RMTC project director, referring to the North-South route with some 38 km under the heart of the city.
Meanwhile, Ramped – a joint venture between Louis Berger and Hill International – is acting as the interface between RDA and the DB contractors within FAST consortium, which is working on Package Three, covering Lines Four, Five and Six.
"We oversee the design and construction deliverables during project execution, ensuring deliverables meet client specifications while assisting the DB contractors to achieve the greatest value for the client," explains Lindsay Vamplew, Ramped project director.
"The first 12 months were dominated by utility diversions and movements," Vamplew recalls.
In fact, hundreds of kilometres of water, sewage, storm water, power, irrigation and telecommunication lines were diverted in the course of construction, requiring potentially time-consuming, unscheduled communications with utility heads. To counter this, RDA set up a working group with representatives from each utility to meet once a month to address issues. Vamplew believes it was a tactical masterstroke on the part of the RDA.
The consortia working on the six lines have, with RDA support, had to address myriad issues, which in addition to large-scale utility diversions prior to digging include: how to safely operate and manoeuvre heavy equipment in congested downtown areas; how to efficiently remove huge volumes of excavated material from downtown tunnelling activities; and how to rapidly erect viaducts along major roads, to name a few – all while keeping the city moving.
Trains
Meanwhile, the 190 trainsets that will be used on the six lines have been manufactured by Siemens, Bombardier and Alstom and are being delivered to Saudi Arabia. The cars are based on the Inspiro/Innovia/Metropolis model.
The first of the trainsets for Line One is due to arrive this quarter while trains for Line Two began to arrive in the third quarter of last year, the RDA spokesman says.
Most of the trainsets for the other four lines have arrived or are en route, he adds.
The trains being supplied by Siemens (74 Inspiro cars for Lines One and Two), Bombardier (47 Innovia Metro 300 trains for Line Three) and Alstom (69 Metropolis sets for Lines Four, Five and Six) are fully automated and driverless.
Currently, UTO testing is in progress on Lines Two, Three and Four of the project.
Riyadh Metro trainsets are characterised by a modern design implemented by Avant Première of France and use a different colour for each line, bridges, sides and signs, making it easier for passengers to travel across the city. The trains consist of either two or four carriages, with each train divided into three categories (First Class, Families and Individuals) through flexible dividers. Trainsets can also be fully allocated to a specific category through the control centre, when needed.
The interior design of the trainsets reflects Saudi culture. Seat cover designs are inspired by Riyadh's traditional architecture, and handles are designed in the form of a 'palm'. The trains offer high standards of comfort and safety, and feature equipment and technologies that are considered the latest in railway trainset manufacture in the world, including electronic screens, visual and audio systems to communicate with passengers, communications systems, lighting and air-conditioning, as well as control systems for the doors, security and safety systems, and CCTV inside the cabins. Trainset design also took into consideration the requirements of people with special needs.
Benefits
Citing some of the numerous benefits afforded by the project, Al Fares says: "The advantages of the project will go beyond the provision of public transport. It will help raise the quality of life in the city, and reduce fuel consumption by limiting private cars on the road, thus reducing pollution. It will also promote a healthy lifestyle for residents and visitors, and provide a suitable environment for exercising and walking, as well as encouraging support for cultural activities, tourism and entertainment by facilitating access to activities and events venues. It will also promote art and creative activities in the vicinity of the stations."
The project also brings promising investment opportunities in services and activities related to the public transport sector, says Al Fares.
These include the naming of stations, advertising, marketing, real estate, urban development and entertainment.
Last November, the RDA awarded naming rights for eight Riyadh Metro stations to leading commercial organisations from Saudi Arabia and the region, generating a total of SR1.045 billion ($278.7 million) over the 10-year period of the contracts.
The winning bidders will see their brands featured as the name of a Riyadh Metro station in a naming rights sponsorship deal. Among additional benefits, sponsors will also be entitled to retail space, advertising and signage within their stations, together with a range of other opportunities, allowing them to engage with the 3.6 million ultimate daily users of the metro network.
The revenue generated from this initiative will be re-invested into the operation of the metro system, to help keep its operational costs down, Al Fares adds.
This was the first in a series of commercial initiatives using private sector participation to generate non-ticket revenue, in line with Vision 2030. RDA will be tendering further commercial opportunities across the entire Riyadh Public Transit System – such as retail, advertising and telecommunication – as it moves towards network operations.
More Stories