Regional News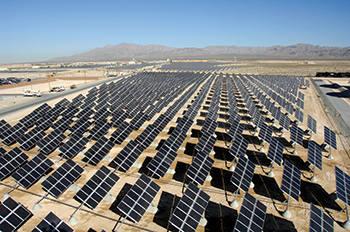 Acwa consortium to build Bahrain solar plant
March 2019
A consortium comprising Saudi-based Acwa, Japanese contractor Mitsui & Company and Bahrain industrial conglomerate AlMoayyed has won a major contract for the construction and operation of a 100 MW independent solar power plant in the kingdom.
The announcement was made by Bahrain's Electricity and Water Authority (EWA) after the Tender and Auction Board awarded the contract to the Acwa-led group which outbid the other contenders in the race – GS Engineering & Construction, Phelan Energy Group and Alfanar Contracting.
The project, which was approved by the co-ordinating committee under the chairmanship of HRH Prince Salman bin Hamad Al Khalifa, Crown Prince, Deputy Supreme Commander and First Deputy Prime Minister, is aimed at exploiting renewable energy to raise the capacity of electricity production and meet the growing demand for electricity throughout the kingdom for development, urban, industrial and commercial expansion.
Planning for the project began immediately after the appointment of the consultant McDonald's Consortium (Mott MacDonald, KPMG, Trowers & Hamlins) in December 2017, according to EWA.
The project is being implemented on a build-own-operate (BOO) model to achieve higher efficiency in the management of the project and cost competitiveness. A total of 26 companies had applied during the prequalification rounds, of which 13 were shortlisted initially which finally led to the selection of three developers for the final race.
The Acwa-led consortium won the contract as it had offered the best bid in terms for the price of the electricity unit (BD14.668 per megawatt hour), which includes the price of energy production.
More Stories