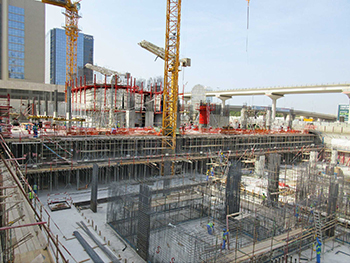 GCC project contracts value down 22pc in 2018
March 2019
The value of projects awarded in the GCC region last year fell by 22 per cent to a new low of just $97 billion, said a new report.
Despite rising budget expenditure and higher oil prices, the value of contracts awarded in 2018 in the region declined by $27 billion year-on-year, marking the lowest annual total recorded since 2004, according to the latest data from Meed Projects.
Every GCC state posted a lower value of awarded contracts compared with 2017, it stated.
The UAE, the region's largest projects market, saw the value of work awarded fall by just under $5 billion to $44.5 billion. It was the first time in four years that the UAE registered a decline in project activity, which was caused primarily by a sharp fall in contract awards in Dubai from $31 billion in 2017 to $24.6 billion last year on the back of softening real estate prices.
Saudi Arabia fell by 10 per cent on the previous year to $26.4 billion worth of awarded contracts, while Kuwait and Oman both decreased by more than 50 per cent to just $5.6 billion and $5.1 billion respectively.
Every sector, except water, also fell year-on-year as the decline in project spending was spread evenly across different industries. Construction, the largest single sector, declined to $45.8 billion last year, more than 40 per cent lower than its peak of $76.6 billion in 2014, according to Meed Projects, which currently tracks more than 15,000 active projects in the region.
Experts pointed out that there were a number of reasons for the market's failure to benefit from the improved regional macroeconomic environment.
"Firstly, and perhaps most importantly, historical analysis highlights that it takes at least 18 months for rises (or falls) in the oil price to have an impact on overall project spending levels," stated Ed James, director of Content and Analysis at Meed Projects. "Project budgets and expenditure sign-off are often made well before revenues tighten. Conversely, it takes time for increased revenues to translate into budgetary decisions on new projects. A positive implication of this is that the steady rise in oil prices over the past year should result in greater project activity in 2019."
"Other growth constraints include the failure of public-private-partnership (PPP) projects to take hold in the region, lower private sector activity in the face of a softening real estate market, and challenging global economic conditions," he added.
"While undoubtedly challenged, the projects supply chain can hold some degree of optimism," remarked James.
"There is a massive pipeline of more than $2.5 trillion worth of planned and un-awarded projects in the GCC, while state budgets across the region in 2019 are all up on previous years," he stated.
"Two of the biggest regional project clients, Adnoc and Saudi Aramco, are now in spending mode, and sectors such as petrochemicals, oil and gas, and utilities look certain to grow over the coming 12 months thanks to a large number of contracts in tender. The launch of new projects such as DIFC 2.0 and Downturn Jumeirah highlight that Dubai still offers a great opportunity, while significant developments are expected to be announced by the 'gigaprojects' such as Neom and Qiddiya in Saudi Arabia," he added.
More Stories