Saudi Focus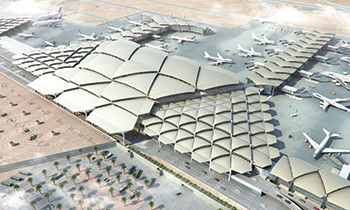 Airport expansion work launched in Riyadh
March 2019
The Saudi General Authority of Civil Aviation (Gaca) has officially launched work on two international terminals at the King Khalid International Airport at an investment of SR2.21 billion ($589 million).
This is part of the Riyadh development projects, which were launched by Saudi King Salman bin Abdulaziz Al Saud last month.
Gaca said the scope of work includes preparation of the two terminals (3 and 4) and the expansion of the corridor connecting the two buildings to turn into a passengers check-in area. This also include all electrical and mechanical systems, as well as special systems.
The project will also see 14 new travel gates and 80 check-in counters being set up, besides 30 counters for departure and 48 counters for passport control. Furthermore, the terminals will have a baggage claim area with eight 658-m-long conveyer belts. In addition, the terminal also includes a commercial space and first and business class lounges, that will come up over a 10,400-sq-m area, said Gaca. An average of 650 workers are currently at the project site.
Once the project gets completed, the airport will be able to accommodate 11 million passengers annually.
More Stories