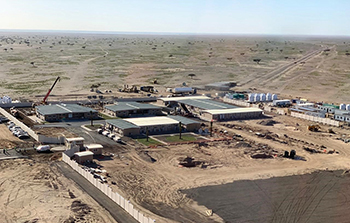 Work starts on mega Red Sea tourism project
March 2019
Saudi-based The Red Sea Development Company (TRSDC) has commenced operations at the Base Camp of its mega luxury tourism development, The Red Sea Project.
The Base Camp, situated on the coastal area near the southern end of the 28,000-sq-km destination, is the first of numerous enabling works to be carried out this year, said the TRSDC.
These works will also include temporary roads, bridge, jetties, utilities, labour accommodation, and a Management Village which will support the development of the luxury tourism destination, it added.
The Base Camp currently houses 60 people, including project and construction managers, health safety and environmental professionals, government affairs specialists and others.
"This is an important milestone for The Red Sea Project and takes us another step closer to our goal of creating a truly exquisite tourism destination on the beautiful Red Sea coast," remarked John Pagano, CEO of TRSDC.
"The remote nature of the site, which is an important part of its appeal as a destination, creates logistical challenges for the support of large-scale development," he stated.
One of the first priorities overseen from the Base Camp will be development of the Construction Village, a residential compound to house the workforce. The works on this project will begin in the second quarter. Phase One of the Construction Village will house up to 10,000 people.
Another key part of this phase will be the Management Village. Once completed, the Management Village will replace the base camp as the centre of TRSDC operations on site and house a wider range of project management and corporate functions. The work on this Management Village will also begin in the second quarter.
More Stories