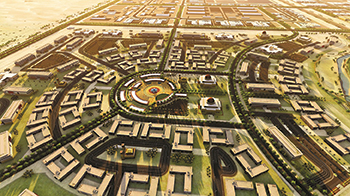 Big spending 'to spark real estate growth'
March 2019
Increased government spending and progress on giga-project developments such as the King Salman Energy Park (Spark) provide a catalyst for future investment opportunities in Saudi Arabia, according to JLL, a leading real estate investment and advisory firm.
With stronger oil revenues and progress on new social reforms, the kingdom's GDP is expected to register growth levels of 2.4 per cent in 2018, up from -0.9 per cent in 2017, stated the JLL report, citing figures from Oxford Economics.
The '2018 Year in Review' provides an overview of the Saudi real estate's market performance across the residential, office, retail and hotel sectors, in light of macro-economic factors and new government initiatives affecting the market's future outlook.
The year 2019 is expected to witness ongoing activity on the back of the kingdom's largest-ever expansionary budget – SR1 trillion ($266 billion) in spending – and a commitment to driving economic growth in line with Vision 2030's objectives, it stated.
With conditions remaining soft across most sectors of the market in 2018, the hospitality and entertainment industries witnessed several major development announcements, said JLL in its report.
These included the launch of Al Qiddiya in Riyadh and Amaala, the luxury wellness destination forming part of a giga-projects investment portfolio launched by The Public Investment Fund (PIF).
"The government's continued focus on strengthening the business environment and attracting foreign investment should have a positive impact on the real estate sector in the long run," remarked Dana Salbak, an associate at JLL Mena.
"These milestone projects are key drivers of Saudi non-oil economic growth and are expected to trigger other large-scale real estate development activity," said Salbak.
"In addition, the wave of development across the kingdom and other reforms promoting Saudisation are expected to create a surge of job opportunities in the long run," she added.
According to JLL, the entertainment sector saw the return of cinemas sparking development opportunities and significant retail opportunities in the field of 'shoppertainment.'
The inauguration of Spark last year was another milestone project expected to fuel demand for commercial and industrial real estate in the Eastern Province.
Saudi Arabia's potential as a global transport hub has led to the development of major infrastructure projects focused on connecting cities.
More Stories