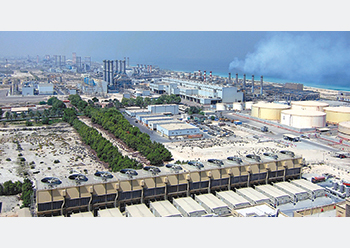 Expansion of M-Station nearly complete
March 2019
Dubai Electricity and Water Authority (Dewa) has completed 98 per cent of the M-Station expansion project, the largest power generation and water desalination plant in the UAE, in co-ordination with German technology major Siemens.
Saeed Mohammed Al Tayer, the managing director and CEO of Dewa, made the announcement during his visit to review the progress of the project.
Since 2015, Dewa has been working with Siemens on the Jebel Ali M-Station expansion, and had appointed Mott MacDonald as the project consultant.
The combined total cost of the construction and expansion of M-Station, equipped with the latest smart devices and heavy-duty technological systems, is close to Dh11.5 billion ($3.06 billion).
During the tour, Al Tayer was briefed by representatives from Siemens about the construction, engineering, and operational processes of the expansion project, which has registered over 19.5 million safe man-hours.
According to him, M-Station's current total capacity is 2,185 megawatts (MW) of electricity and 140 million gallons of water per day (mgpd). The expansion project includes new power generation units, with an added 700 MW capacity, increasing the station's total capacity to 2,885 MW, when completed.
Al Tayer pointed out that the expansion project has added two dual-fuel gas turbine generators, two heat-recovery steam boilers, and a steam turbine that is 90 per cent fuel efficient.
This will increase the plant's thermal efficiency from 82.4 per cent to 85.8 per cent, which is one of the highest thermal-efficiency rates in the world, he stated.
M-Station was built at a cost of Dh10.15 billion, of which Dh6.2 billion were invested to generate 2,185 MW of electricity from six Siemens F-model gas turbines, each with a capacity of 255 MW; six boilers for waste-heat recovery; and three steam turbines, each with a capacity of 218 MW.
Water desalination systems, costing Dh3.95 billion, use eight desalination units, deploying Multi-Stage Flash (MSF) distillation technology, each with a capacity of 17.5 mgpd and totalling 140 mgpd, two dual-fuel-fired auxiliary boilers of 390 tonnes per hour, and 16 fuel-oil storage tanks, each with a capacity of 20,000 cu m, with total fuel-oil storage of 320,000 cu m.
More Stories