UAE Focus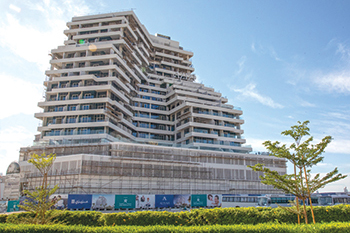 Azizi DHCC homes on track for handover
March 2019
Azizi Developments, a leading UAE private developer, said 90 per cent of the construction work has already been completed at its Dh470-million ($128 million) Azizi Aliyah Residence project coming up in Dubai Healthcare City (DHCC).
Situated on Al Khail Road, Azizi Aliyah boasts 346 residences comprising 191 studios as well as 135 one- and 20 two-bedroom apartments, along with 16,000 sq ft of upscale retail space.
Azizi Aliyah is built on the concept of maximising terrace space through staggered slabs and unroofed balconies. The 16-storey building overlooks the surrounding DHCC area that encompasses the Dubai Creek.
Azizi said these elegantly-designed homes will be delivered to homeowners during the second quarter.
The architectural finishes of its interiors are currently under way, and the external works are progressing at an accelerated pace, stated the company. All infrastructure work is also being completed in a timely manner with the support of Dubai Healthcare City, it said.
Azizi Developments said it had deployed a full force of contracting teams to ensure 100 per cent completion as per the delivery schedule.
"With its central location in Dubai Healthcare City and proximity to Dubai Creek, Azizi Aliyah Residence will soon welcome its first residents to a premier development, underpinned by high-quality design and world-class construction standards," said CEO Farhad Azizi.
More Stories