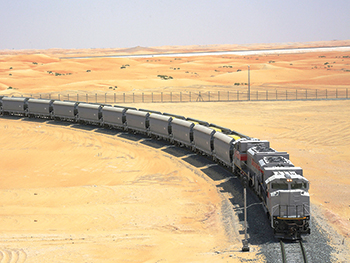 Etihad Rail invites bids for freight facilities
March 2019
Etihad Rail, the developer and operator of the UAE's integrated railway network, has invited prequalification bids from leading contractors to provide design-and-build services for freight facilities across its entire network.
Upon completion, the rail network, which will cater to both freight and passengers, will span approximately 1,200 km across the UAE.
It will be built in phases to link the principal centres of population and industry of the UAE, as well as to form a vital part of the planned GCC railway network linking the GCC states: Bahrain, Kuwait, Oman, Saudi Arabia and UAE.
The first stage is the 264-km route for transporting sulphur from its sources at Shah and Habshan, in granulated form, to its point of export at Ruwais. The services between Habshan and Ruwais have been operational since January 2016.
The second stage will connect Fujairah to the Saudi border via Mussafah, Khalifa and Jebel Ali Ports. During this stage, the network will be extended by 605 km.
The network will also form a vital part of the GCC railway network, linking the UAE to Saudi Arabia via Ghuweifat in the west.
Prequalification documents were due to be submitted by the end of last month (February). Contractors were required to have vast experience in bulk materials handling; intermodal loading/unloading sidings; all associated earthworks, trackwork, besides construction of structures including bridges, underpasses and tunnels.
These firms were also required to have experience in the field of rail systems and signalling, and operation systems, besides developing internal and external facility roads, drainage structures and utilities including connection to the services.
Meanwhile, Etihad Rail has signed an agreement with Abu Dhabi Ports with the aim of connecting Khalifa Port to the national rail network.
Sheikh Theyab bin Mohamed bin Zayed Al Nahyan, member of Abu Dhabi Executive Council and chairman of Etihad Rail, said that the signing of the agreement will have positive effects, as connecting Khalifa Port to the national rail network will raise competitiveness. He also noted that the train station in Khalifa Port will become the largest in the network, with an annual capacity of 2.4 million containers, reported Emirates news agency Wam.
"The train station in Khalifa Port was designed to improve infrastructure and raise the capacity of our ports to transfer goods in a more economical and reliable way, through the ability of one train to transfer the load of 300 trucks," he added.
The capacity of Khalifa Port is expected to increase to 9.1 million containers annually over the next five years.
More Stories