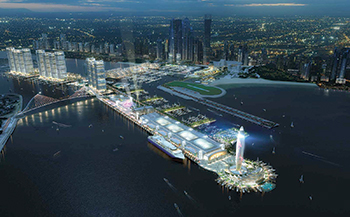 Dubai Harbour to steal limelight at show
March 2019
Meraas, a Dubai-based holding company, is showcasing its industry-defining maritime neighbourhood – Dubai Harbour – at the 27th annual Dubai International Boat Show (DIBS) 2019 which concludes on March 2 at the Dubai Water Canal.
Meraas said Dubai Harbour, designed to the highest international standards, will be the first yachting community hub in the Middle East.
Located between Bluewaters and Palm Jumeirah, Dubai Harbour's integrated infrastructure is being built over an area of 20 million sq ft and will include retail, restaurants, cafés, luxury residences, hotels and Dubai Lighthouse, a 150-m-high architectural masterpiece destined to become a feature landmark building.
Designed by leading architects, Dubai Harbour's marina will offer a spectacular cruising ground, with vantage views of Dubai's distinct landmarks.
Meraas said its maritime capabilities are further enhanced by a joint venture agreement with D-Marin, in partnership with Dubai Holding.
The exclusive marina at Dubai Harbour will be the biggest in the Middle East, featuring three distinct marina bays – Harbour Marina on the western side of the neighbourhood, Bay Marina on its eastern side and the smaller Palm View Marina forming the northern tip close to the nearby high-rises.
At the heart of the marina, the Harbour Master Building will be an architectural masterpiece forming the essence of the yachting community at the Harbour Marina. According to Meraas, the promenade at its base would host trendy restaurants, chic cafés, eclectic retail as well as a purpose-built platform to stage special events and performances.
Upon completion of Phase One, this area will accommodate over 560 wet berths for yachts up to 35 m in length (LOA), with 150 stern-to berths within close proximity to the promenade and 410 finger berths for patrons seeking more privacy. An estimated 300-plus berths will be added to the Harbour Marina in Phase Two for yachts up to 30 m in length.
The Bay Marina will be Dubai's first superyacht-dedicated marina, with 180 berths, with over 45 wet berths for yachts over 50 m in length (LOA) and eight wet berths for yachts over 100 m in length (LOA), it stated.
Finally, Palm View Marina will host 37 berths for yachts spanning up to 50 m in length alongside a promenade, it added.
More Stories