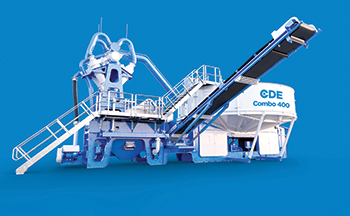 First all-in-one wet processing unit revealed
March 2019
CDE Global will introduce its new all-in-one Combo wet processing plant to the global market at bauma 2019 in Munich, Germany.
"More than plant machinery, the Combo wet processing system is a technological response to the challenges faced by materials producers and is tipped to reshape the wet processing industry's landscape," said a spokesman for the industry-leading wet processing equipment designer and manufacturer.
A turnkey solution that delivers in-spec washed products from a wide range of feed materials, the Combo can be used in the construction, construction and demolition (C&D) waste recycling, industrial sands, mining and environmental sectors.
It has been designed with a focus on transferring greater reliability and efficiency benefits to customers. With all essential processes being housed onto one chassis, the Combo system operates as one interconnected and pre-assembled unit, which incorporates an integrated control panel with one single point of operation. Designed as an ultra-compact washing solution that requires minimal civils and pipework, operators can now easily relocate their plant across sites or to remote locations, said CDE.
Kevin Vallelly, director of engineering at CDE, said: "Our new Combo is the world's first wet processing system with integrated water treatment. For the customer, its bespoke, pre-determined design reduces the overall footprint on site compared traditional processes. Pre-wired and pre-tested before dispatch, the plant is built for rapid assembly and set up, and can start processing material within days of arriving at the site. Throughout the design process, our engineers focused on access for maintenance and on optimising the lifespan of the plant."
CDE Global will be exhibiting at Stand FN 1022/1 in the outdoor exhibition area North/East at bauma 2019.
More Stories