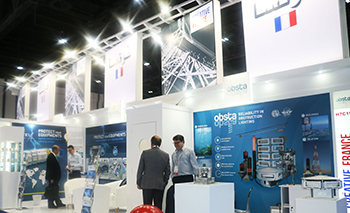 Global firms gear up for electricity expo
March 2019
A total of 27 French companies will be showcasing their innovative equipment and applications for power generation, transmission and distribution at the upcoming Middle East Electricity Show (MEE) in Dubai, UAE, in co-ordination with Business France, the national agency supporting the global development of the country's economy.
The event, which will take place from March 5 to 7, at the Dubai World Trade Centre, is a major opportunity for the French excellence sector that is both innovative and dynamic to enjoy the spotlight, said Business France.
Those taking part in the event are 3X Engineering; Addev Materials; AEG Power Solutions; AOIP; ARC Informatique; Arras Maxei France; AUD Innov; Augier; Cahors International; Chauvin Arnoux; Citel 2 CP; Delta Box; Enerdis; Ensto Novexia; GS Yuasa Battery France; Industrielle De Controle Et D'Equipement; Infosec Communication; JST Transformateurs; Made; Metal Deploye Resistor; Michaud; Export; Niled; Obsta; RS Isoltec; Saft; Sediver and Tecnor Middle East.
With such strong players on its soil, France enjoys some of the highest-quality power supply in the world, and can offer electrical equipment on par with the best, said the French agency.
The exhibitors on site will cover the full range of the industry: equipment and applications for power generation, transmission and distribution, protection and security products and systems, and lighting, it added.
Meanwhile, UK-based JCB Power Products, a leading provider of robust and reliable power solutions to the construction industry, is all set to make its debut at the MEE exhibition.
JCB Power Products has been working closely with large contractors, and rental companies, such as Rental Solutions and Services in the UAE – which has already taken more than 700 JCB rental generators to build its business, said the company.
Demand for power generators has been growing steadily throughout the Middle East, with JCB Power Products recording a 30 per cent increase in sales over the last three years, it added.
During the expo, JCB will showcase its broad portfolio of products including the generators from eight to 2,750 kVA alongside a range of lighting towers.
A major highlight is that these JCB generators can be supplied with a variety of engines, including the JCB Dieselmax, to suit individual customer requirements, said a top company official.
All benefit from the same market-leading levels of support from JCB's 13 world-class power dealers in the territory; as well as support from the JCB Middle Eastern Office and Parts Distribution in Dubai and JCB's UK headquarters, remarked Adam Holland, the managing director of JCB Power Products.
On its debut show, Holland said: "The Middle East Electricity exhibition is a brilliant platform for JCB to meet many potential new customers from across the Middle East, as well as neighbouring regions. We have some exciting new products to showcase to the region and we will be launching these on the stand."
Adam Snelson, general sales manager, said: "Our flagship QS generator range has had fantastic success around the world, particularly in the Middle East and Africa. We've seen sets, powered by the JCB four-cylinder and six-cylinder ranges, double in sales over the last two years."
"We continue to see repeat business from customers in many sectors who are choosing the QS models to supply the power for both prime and standby solutions. What sets this range apart is the robust and durable design and the JCB engine. Not only are these engines built to perform, our dealers are very familiar with the engine range, which makes service and support efficient, while spare parts are readily available through our parts distribution centres," he added.-
Among other exhibitors, Germany-based Phoenix Contact, a digital industrial company, will showcase its latest innovations at MEE. The company will display innovations from smart connectors, through to the control platform for the digital future, and easy access to the cloud, said the company.
Some of the products include surge protection for power supplies, AC and DC electrical vehicle charging inlets, compact signal conditioners, relay modules, cloud-based remote communication, industrial ethernet, power supplies leading in technology and Intelligent UPS.
Dania Liswi, marketing communication services manager at Phoenix Contact Middle East, said: "Middle East Electricity remains our main event to meet with our partners and customers, and network with other manufacturers in our industry. Our products impress with their high quality and innovative technology."
More Stories