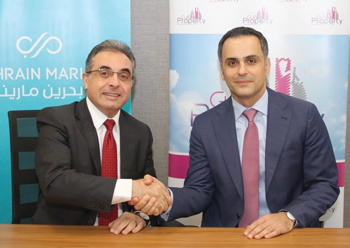 Bahrain Marina signs up for Gulf Property Show
March 2019
Bahrain Marina, the iconic development in the heart of capital Manama, has signed up as the Diamond Sponsor for the Gulf Property Show 2019, the boutique showcase for the real estate and property development sectors in tthe Northern Gulf region.
Gulf Property Show will be held under the patronage of HRH Prince Khalifa bin Salman Al Khalifa, Prime Minister of the Kingdom of Bahrain, from April 23 to 25 at the Bahrain International Exhibition Centre, said the event organiser Hilal Conferences and Exhibitions (HCE).
Bahrain Marina is a mixed-use development that aims to add a new distinctive waterfront to the kingdom's pristine coastline in Manama. The new destination will include a five-star hotel, suites, waterfront villas and freehold apartments, a fully-integrated family entertainment centre, cinema complex, boardwalk, marina, yacht club and a recreational waterfront space with dining and retail facilities.
Bahrain Marina Development Company CEO Yazan Haddad said: "Gulf Property Show 2019 provides us with the platform to engage investors with the value proposition of the Bahrain Marina development. We will be showcasing the latest updates of our world-class marina frontage facility which will enhance the variety available to Bahrain's tourists."
"Phase One of the iconic development is projected to be completed by 2021; it is expected to be one of Bahrain's biggest lifestyle attractions," he stated.
Lauding the partnership, Jubran Abdulrahman, the managing director of HCE, said: "Bahrain Marina Development's presence at the Gulf Property Show offers our visitors a unique real estate investment opportunity."
Meanwhile, Bin Faqeeh Real Estate, a leading private investment company based in Bahrain, has signed up as a strategic partner for the Gulf Property Show 2019.
On the strategic partnership, chairman Faisal Faqeeh said: "The Gulf Property Show continues to provide a strong platform for Bin Faqeeh Real Estate Investment Company to present its iconic projects to the large number of investors visiting the event."
"This is Bahrain's leading property event of the year and as a leading property developer in the kingdom our strategic association with the Gulf Property Show is unquestionable," remarked Faqeeh.
Bin Faqeeh Real Estate Investment Company had recently sealed its alliance with the international Italian fashion brand Roberto Cavalli. The partnership brings Bahrain's real estate options for interiors exclusively designed by Roberto Cavalli for the Eastern Tower at Bin Faqeeh's Waterbay project in Bahrain Bay.
Waterbay Residence by Roberto Cavalli will set standards in luxury development at Bahrain Bay by creating glamorous and vibrant lifestyle living for delivery and completion to investors by the fourth quarter of 2019.
The Gulf Property Show also carries with it the strategic organisational support of the Real Estate Regulatory Authority of Bahrain (Rera), Survey and Land Regulatory Bureau (SLRB), Urban Planning and Development Authority of Bahrain and Bahrain Property Developers Association (BaPDA).
More Stories