Events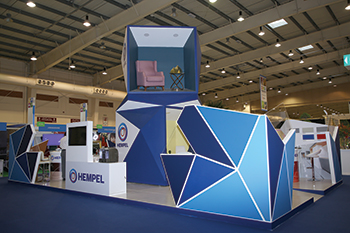 Hempel Paints wins best stand award
March 2019
Hempel Paints, a global leader in coatings, was voted the Best Stand at Interiors Expo 2018, organised by Hilal Conferences and Exhibitions (HCE) in Bahrain.
HCE's managing director Jubran Abdulrahman said: "Interiors Expo Best Stand Award provides recognition for exhibitors' creative contribution to an event promoting creativity and design."
"Hempel Paints participation at the Interiors expo provides a unique and imaginative showcase that not only promotes their coatings and paints, but also engages the visitors to the show," added Abdulrahman.
Interiors Expo, the leading interiors and décor event in Bahrain, is held annually in conjunction with two other big events – Gulf Property Show and Gulf Construction Expo.
Interiors Expo 2019 will run from April 23 to 25 at the Bahrain International Exhibition and Convention Centre under the patronage of HRH Prime Minister Prince Khalifa bin Salman Al Khalifa.
More Stories