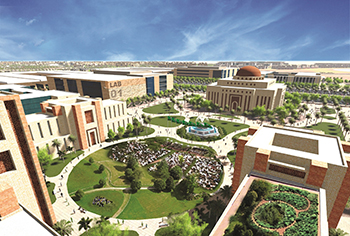 On the growth path
Saudi Arabia, which is implementing major reforms as part of its Vision 2030, has recently seen a wave of massive tourism and entertainment projects as well as industrial ventures aimed to diversify its oil-reliant economy, encourage private sector participation and put it firmly on the path to growth.
May 2019
Things are beginning to look up: Saudi Arabia achieved its first budget surplus since 2014 in the first quarter of this year, according to the country's minister of finance, and intends to increase state spending by seven per cent in 2019 in an effort to spur economic growth that has been reeling under the low oil prices over the past four years.
Saudi Arabia has traditionally relied on the public sector to propel construction activity and hence these announcements spell good news for the sector.
According to Fitch Solutions, the construction sector is expected to exit recession in 2019, with a growth of 1.5 per cent year-on-year. There are signs of a gradual recovery, it says and anticipates some increases in fiscal expenditure in 2019 as the government prioritises investment in growth-supportive infrastructure development.
This view has also been endorsed by JLL, a leading real estate investment and advisory firm, which expects the year 2019 to witness ongoing activity on the back of the kingdom's largest-ever expansionary budget – SR1 trillion ($266 billion) in spending – and a commitment to driving economic growth in line with Vision 2030's goals.
It has been a year punctuated by headline grabbing announcements of massive projects of the scale Saudi Arabia has not seen before and unleashed following the opening up of the kingdom's entertainment sector: the mammoth $500-billion Neom City project in the northwest, which takes in three countries – Egypt, Jordan and Saudi Arabia – under its ambitious ambit; the Qiddiya entertainment hub off Riyadh; the Amaala luxury wellness destination; The Red Sea Project, a mega luxury tourism project, which will see 22 islands being developed; a new entertainment complex in Riyadh by Saudi Entertainment Ventures Company (Seven); the Sharaan mega tourism projects in the Al Ula region; the four 'grand projects' for Riyadh, namely King Salman Park, Sports Boulevard, Green Riyadh and Riyadh Art; and the very latest, a new amusement park in the Eastern Province along with six cinemas and three new entertainment destinations, also by Seven.
In addition, with the kingdom having lifted the ban on cinemas – which had been in place for over 34 years – a swarm of international cinema operators have been making a beeline for Saudi Arabia. Reports indicate that the Saudi entertainment sector is set to make investments worth SR267 billion in building the necessary infrastructure for cinemas. Two groups Vox Cinemas – a major regional player and a subsidiary of UAE-based Majid Al Futtaim – and Carnival Cinemas, a multiplex chain in India, alone are planning to open close to 1,000 new screens across the kingdom.
To spur economic growth, Saudi Arabia has been launching numerous projects in the kingdom. In February, King Salman unveiled a total of 1,281 infrastructure development projects worth SR82 billion in Riyadh and the surrounding towns, according to the Arab News. These are part of a wider programe for Riyadh which includes some 2,830 projects planned at a total cost of SR338 billion.
The projects launched include 15 housing developments; the establishment of the largest Islamic museum in the capital; a huge environmental project for the lakes south of the capital; sports cities; seven medical cities; 16 educational projects; entertainment facilities; and the development and upgrading of the road network.
Infrastructure spending is also allocated to the other regions of the kingdom. Last November, King Salman launched 600 projects worth SR16.5 billion in Qassim focusing on housing, road, tourism, water, electricity and public utilities.
The Saudi monarch also unveiled projects worth over SR10.5 billion at Arar and inaugurated 242 development projects valued at SR10 billion in the Al Jouf province, during his multi-city tour of Saudi Arabia.
Also as part of the 88th National Day in September, the kingdom announced 10 major projects and development programmes worth more than SR685 billion.
Setting the tone for this year, Saudi Arabia unveiled a sweeping plan late last month to develop infrastructure and industry across the nation by leveraging private sector investment. Crown Prince Mohammed bin Salman presided over the signing of agreements in planned deals which covered four key economic sectors – mining, industry, logistics and energy.
Known as the National Industrial Development and Logistics Program, the plan aims to attract SR1.6 trillion of foreign investment by 2030 into various industries, including some projects that have already started.
Some of Saudi Aramco's projects are also expected to come under the umbrella of the new programme include King Salman Energy Park (Spark), an industrial park on the Arabian Gulf coast.
Mega industrial developments such as the Spark and the King Salman International Complex for Maritime Industries in Ras Al Khair provide a catalyst for future investment opportunities in Saudi Arabia.
Religious tourism, too, continues to be an area of focus with Makkah and Madinah undergoing major transformation under Saudi Arabia's Vision 2030. The kingdom aims to increase Makkah's capacity to host 30 million pilgrims annually by 2030. Besides this, Saudi Arabia has already expanded Jeddah's King Abdul Aziz International Airport, the main gateway for international pilgrims while easing accessibility to and between the holy cities with the Haramain High-Speed Railway.
Another key project in the transport sector is the ongoing $22.5-billion Riyadh Metro, among the largest infrastructure developments under way worldwide.
Turning to the downside for the construction sector, the growing labour shortage, private sector caution and uncertainty of project viability will contribute towards a slower growth trajectory, according to Fitch Solutions.
Mega Projects
Saudi Arabia has unveiled a spate of awe-inspiring projects to address the lack of entertainment and tourism options at home. These developments are aimed at boosting the kingdom's leisure and entertainment offerings in a bid to keep some of the estimated $10 billion that Saudis spend on entertainment abroad within the country.
Among the latest announcements, King Salman bin Abdulaziz on March 19 launched four 'grand' well-being projects worth $23 billion in the capital aimed at improving the lives of its citizens besides transforming the city into an attractive destination and making it one of the world's most livable cities. The projects include King Salman Park (see Page 58), Sports Boulevard, Green Riyadh and Riyadh Art, construction of which will start in the second half of this year. They will offer opportunities worth $15 billion for the private sector to invest in the residential, commercial, recreational and wellness areas, said senior government officials.
Spread over a 13.4-sq-km area, King Salman Park will be the largest city park in the world. Green Riyadh, one of the world's largest urban greening projects, will increase the green cover in the capital with the planting of 7.5 million trees; Sports Boulevard will be an iconic health and wellness destination; and Riyadh Art is expected to be the world's single largest government investment in public art.
A month earlier, Crown Prince Mohammed bin Salman had launched mega tourism projects in the Al Ula region, including a resort designed by renowned French architect Jean Nouvel and a nature reserve, both of which take their name Sharaan from the surrounding canyon with its ancient rock formations.
The first-of-its-kind sustainable resort project aims to transform the home of ancient civilisations into a world-class destination. To be located in the 925-sq-km Sharaan Nature Reserve, the resort will boast several key amenities including residential estates, a conference centre and a spa. Design work is expected be completed by the year-end and construction will start in 2020 with a completion date of 2023.
Meanwhile, construction is set to start in the next few weeks on the $500-billion Neom project in the northwestern part of the kingdom on the Red Sea coast. In September last year, environmental, geological, and archaeological surveys began on the 26,000-sq-km eco-friendly tourist destination and in mid-January, the project's board approved the masterplan for developing the first urban area in Neom. Phase One of Neom Bay, a luxurious touristic destination and the first urban area to be developed in Neom, is targeted for completion next year.
Yet another project launched by Crown Prince Mohammed is the mega leisure, sports and cultural destination, Qiddiya, in Riyadh. The approval for the masterplan of the project is imminent. It is expected to be the world's largest entertainment city by 2030 (see Page 56).
Another entertainment complex planned for the capital is a 100,000-sq-m project to be developed by Seven, a unit of the kingdom's Public Investment Fund (PIF).
Seven has also just announced plans to build a new amusement park on a 100-hectare site in Al Aziziyah area of the Eastern Province, along with six cinemas and three new entertainment destinations in Dammam, Al Khobar and Al Ahsa.
Seven aims to build about 20 entertainment centres around the country.
Late last year, the PIF also launched Amaala, an ultra-luxury tourism destination focusing on wellness, healthy living, and meditation located within the Prince Mohammed bin Salman Natural Reserve. The PIF has indicated that Amaala will sit alongside Neom and The Red Sea Project.
The mega luxury tourism development Red Sea Project, meanwhile, has also made steady progress with construction due to begin on the workers' residential village as well as management village in the second quarter of this year. (see Page 52).
Another massive development under way is the $2-billion heritage and culture tourism project at Souq Okaz City in Taif that will have heritage centres, museums, recreational areas and a convention centre. Souq Okaz City will also have a suburb to house about 750,000 people; a new airport able to handle five million passengers a year in its first phase; a technology hub; Taif University; and an industrial city.
Among other mega developments, Al Akaria Saudi Real Estate (Sreco) is developing the giant Al Widyan project near Riyadh. Late last year, it awarded Saudi Real Estate for Infrastructure Company (Binyah) a SR1.1-billion infrastructure contract for the 7-million-sq-m world-class city. The project will be delivered over a phased programme in seven years with Phase One estimated to cost of SR10 billion.
Airports
Work is in progress on two terminals (3 and 4) at the King Khalid International Airport at an investment of SR2.21 billion. Work also includes the expansion of the corridor connecting the two buildings to turn it into a passengers' check-in area. Once the project is completed, the airport will be able to accommodate 11 million passengers annually.
General Authority of Civil Aviation (Gaca) also launched work at the end of last year on the new Qunfudah Airport, the fourth such facility for the Makkah region and 28th in the kingdom. The airport will be able to accommodate half a million passengers annually.
Following the recent opening of a new terminal at King Abdulaziz International Airport (KAIA) in Jeddah, a new 75,000-sq-m cargo handling facility at the airport has been given the go-ahead by Saudia Cargo. The first phase of the facility has double area of the current one.
Railways & Metro
The ambitious Riyadh Metro project is about 80 per cent complete, with work in progress on all six lines of the $22.5-billion project in the Saudi capital. The metro is the backbone of the $27-billion King Abdulaziz Project for Riyadh Public Transport (KAPRPT), believed to be the world's largest integrated metro and bus project that has been designed to meet all existing and expected mobility requirements of Riyadh.
Late last year, the Riyadh Development Authority (RDA) – which is spearheading the project – awarded naming rights for eight metro stations to leading commercial organisations from Saudi Arabia and the region, generating a total of SR1.045 billion over the 10-year contract period.
Meanwhile, the Saudi government signed landmark agreements worth nearly $14 billion late last year for implementing mega railway projects. These include the $10.6-billion Land Bridge project, which is aimed at linking the Red Sea and the GCC ports via the railways between Dammam and Riyadh; and a $3.6-billion deal with a Spanish consortium to build Phase Two of the Haramain High-Speed Rail project.
Housing
In line with the targets set in Vision 2030, the government aims to reduce the average waiting period for citizens to obtain housing financing from 15 years to five years, and increase household ownership ratio from 47 to 70 per cent by 2030.
According to the leading independent global property consultancy Frank Knight, fast urbanisation across Saudi Arabia over the past decades has put significant pressures on housing markets in urban centres. The issue of affordability is set to exacerbate as more and more people congregate in cities to access greater opportunities.
The Ministry of Housing is taking initiatives to respond to affordability pressures and get Saudi residents on the property ladder. The ambitious Sakani programme is a case in point, it adds.
Late last year, Saudi Arabia announced a major housing programme under which more than 19,000 homes will be built in major areas of the kingdom for beneficiaries of its Sakani scheme.
Earlier, the Housing Ministry had signed two agreements with real estate development companies to build some 10,000 residential units in Jeddah for beneficiaries of the Sakani programme.
Power & Water
In line with its ambition to diversify its energy mix, stimulate economic development and ensure sustainablity, Saudi Arabia launched its National Renewable Energy Program (NREP) which is aimed at maximising the potential of renewable energy in the kingdom.
In March this year, the kingdom revealed details of Phase Two of the NREP that will see seven solar photovoltaic (PV) projects being developed in the kingdom which will generate 1.52 GW energy and attract investments worth over $1.51 billion. The key projects include Qurrayat (200 MW), Madinah (50 MW), Rafha (45 MW), Al Faisaliah (600 MW), Rabigh (300 MW), Jeddah (300 MW) and Mahad Duhab (20 MW).
Meanwhile, in November last year the Crown Prince laid the foundation stone for the kingdom's first nuclear research reactor, construction of which is under way. The kingdom plans to build two full nuclear power reactors for energy and as many as 16 over the next 25 years.
Among other renewable energy projects, a consortium headed by the Abu Dhabi-based Masdar is building the $500-million Dumat Al Jandal project, the first utility-scale wind farm in Saudi Arabia. When completed, the Dumat Al Jandal wind farm will generate sustainable power for up to 70,000 Saudi households.
Industry
One of the largest industrial hubs taking shape in the kingdom is Waad Al Shamaal, which is coming up over a sprawling 440-sq-km area in the northern region. King Salman inaugurated Phase One of the SR85-billion mega city for mining industries and laid the foundation stone for its second phase in November last year.
Spark, the world-class energy industry hub in the Eastern Province, was officially launched last year. Being developed on an area of more than 50 sq km located between Dammam and Al Hasa, it will be built in three phases, with the first phase expected to complete in 2021 and the entire development targeted for completion by 2035.
Spark, which is estimated to contribute some SR22.5 billion to the kingdom's GDP by 2035, has been designed to position Saudi Arabia as a global energy, industrial and technology hub.
In the industrial sector, meanwhile, Sadara Chemical Company continues its expansion drive with the launch of work an ethylene oxide (EO) and propylene oxide (PO) pipeline project that will serve a key industrial cluster at PlasChem Park in Jubail.
Among other major industrial ventures set to take shape is a giant petrochemical complex in Jubail, which will be jointly developed by Saudi Aramco and French oil and gas major Total. The world-class complex will be located next to the Satorp state-of-the-art refinery, as part of its second phase expansion.
Saudi Arabian Mining Company (Ma'aden) is going ahead with its third large-scale phosphate complex (Phosphate 3) in the kingdom, and late last year awarded South Korea's Daelim Industrial Company a SR3.4-billion contract to build the first plant in the complex.
Saudi Aramco and Saudi Basic Industries Company (Sabic) are developing a fully-integrated crude oil-to-chemicals (COTC) complex in the kingdom. KBR was awarded the project management and front-end engineering and design (Feed) contract last year.
More Stories