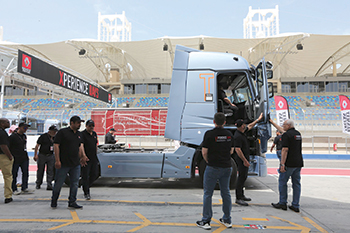 Renault puts trucks' prowess on show
During its recent Xperience Days 2019 in Bahrain, Renault demonstrated the efficiency and safety offered by its long-haul and construction ranges to an audience of 450 international participants.
May 2019
Renault Trucks brought together an international audience of 450 participants from the trucks industry to showcase the prowess of its products through a series of workshops and unique driving experiences during the Renault Trucks Xperience Days 2019.
The annual event was held from April 8 to 12 at the world-famous Formula One track at the Bahrain International Circuit.
Customers were hosted from more than 30 different countries, including 80 participants from the Middle East, and hundreds from Africa, Turkey and Algeria. About 60 customers joined from Saudi Arabia on a day dedicated specifically to clients from the kingdom, says a company spokesman.
The Xperience Days 2019 was split into four key segments. The first segment involved a test drive experience in the latest models in Renault Trucks' long-haul range, including the T series, as well as the construction ranges – the K and C series.
The second and third segments consisted of workshops about Renault Trucks' transport solutions, addressing the topics of safety, fuel efficiency, after-sales and financial services.
Interactive discussions with Renault Trucks' team of experts and guests examined smart transportation solutions that increase profitability for customers by optimising total cost of ownership. Customers and Renault Trucks team members shared opinions and expertise simultaneously during these sessions.
The fourth and final segment saw participants enjoy a fun-filled driving adventure experience. Alongside a professional driver, guests braved a challenging Land Rover Experience and took on the role of co-pilot on the race circuit in a Renault Clio Sport.
Commenting on the company's performance and the significance of the event, Bruno Blin, president of Renault Trucks, says: "In 2018, we marked our fourth consecutive year of sales growth with a 10 per cent year-on-year increase. Among many factors that led to this success were our close relationship with our customers and our continuous efforts to always be by their side.
"It's for this reason that we think it's essential we come together with our customers at events like our 'Xperience Days' in Bahrain, where we test, listen and work together."
A customer, who attended the annual Renault Trucks event for the first time, says: "We have a large fleet of trucks and driving the trucks at the event has totally changed my view of this brand. The trucks are robust, of great quality, and the comfort is beyond expectations. They are really impressive."
He says not only are Renault's trucks robust and efficient, "but the customer relationship we enjoy with Renault Trucks is also the reason we believe Renault is the right partner".
Building on the legacy of more than a century of French truck knowhow, Renault Trucks supplies transport professionals with a wide range of services and vehicles (from 2.8 to 120 tonnes) adapted to local and regional distribution, construction and long-distance activities.
Renault Trucks distributes and services its trucks via a dealership network comprising more than 1,500 service points.
The design, assembly and production of most of the components of Renault Trucks vehicles is done in France.
More Stories