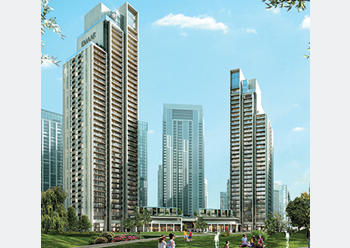 EFP systems are tailored to region
Specialised in developing aesthetic, custom-made facade and glazing systems to the highest standards, EFP International offers optimum solutions for the Mideast, says its UAE fabricator Walltech.
May 2019
EFP International, a specialist in the design and production of architectural aluminium profile systems, offers products that are highly suited for the region keeping in view its harsh climate and the need for sustainability, says Wall Technology (Walltech), its exclusive approved fabricator in the UAE.
These products, marketed under the brand name EFP European Façade Products, include a wide variety of systems for curtain-walling, skylights, roofs, aerofoils, louvres, sunshades, windows, doors, sliding windows and doors and special systems for cladding substructures.
"EFP brings European technology to local suppliers. It has been present in the Gulf since 2005, and has a portfolio of almost 1,000 projects to its credit," says Bram Hannessen, EFP's CEO.
EFP is specialised in developing aesthetic, custom-made facade and glazing systems to the highest architectural and technical standards. With more than 45 years' experience in the systems business, the company is one of the major players in the GCC countries.
The Netherlands-based firm uses aluminium in line with its concern for the environment since it is lightweight, durable and flexible and it offers potential for achieving even the most demanding design briefs, he says.
Aluminium can be polyester powder-coated or anodised in a variety of colours, which enhances the material's natural durability. EFP's powder coaters guarantee their finishes for 25 years and anodisers for 30 years.
EFP has a team of dedicated structural engineers who can provide architects and designers with solutions to the most complex architectural issues at an early stage.
"An extensive product portfolio is at the client's disposal - both standard and complex customised solutions," he says.
Regular curtain-walling
The EFP 50 regular curtain-wall systems are specially designed for local conditions. The entire system is fully mullion drained and pressure equalised.
This means the system features special developed components such as drainage diverters that are designed to allow the small amounts of water that may enter the system to drain to the exterior, explains a spokesman for EFP International.
With an extensive range of profiles and accessories, the EFP 50 is one of the most comprehensive curtain-walling ranges on the market today.
"EFP develops systems according to the design requirement. New profiles are continually added and tested to the highest standards. This approach delivers the most innovative design brief coupled with reassured performance," says the spokesman.
He adds that the system can be used to create distinctive facades along with its fully integrated EFP 55 window systems.
"Minimalistic lines through sheer glazed facades is a design requirement. The EFP 50 has been developed to provide specifiers with a range of transoms and mullions with a 50-mm sight line. Where the facade demands multi-storey spans and performance, a range of high static value mullions achieve the design brief, keeping the same 50-mm sight line," he says.
EFP's regular curtain-walling includes options for four-sided or two-sided structural glazing with horizontal or vertical capping and concealed vents.
For segmented curtain-walls, corner mullions are adjustable from 7.5 to 165 degrees. This means that roof glazing applications, such as barrel vaults, pyramids, domes and sloped glazing can be achieved.
The system is manufactured from extruded aluminium profiles, using alloy 6063 complying with the requirements of BS 1474. The thermally-broken EFP 50 system helps in conserving energy, reducing condensation and provides a barrier for noise pollution, he adds.
The EFP 50 reduces noise by 2dB (A), while it's made to EN ISO 10077-2 standard in thermal resistance.
Glass – mirrored, tinted or opaque types – provide the facade with feature and distinction. To allow panels and glass of different widths to integrate into the same curtain-wall, without the need to step-cut, EFP has specifically designed a range of gaskets and pressure plates to provide glazing options from 3 to 56 mm thick, he explains.
Unitised systEms
Keeping in view today's demands for faster lead times and reduction in costs, EFP has developed the EFP 65 unitised curtain-walling system, which allows architects virtually limitless design freedom – this with the benefits of vertical and horizontal sight lines of just 15 mm.
The thermally-broken system is fully drained and pressure equalised and consists of 65-mm-wide mullions and transoms. Various external features such as cover caps, integrated canopies and stone panel solutions are available for the system. Integrated concealed windows are designed to allow natural ventilation while eliminating any visible window bars.
Furthermore, the system consists of elements manufactured in a controlled environment using specialised machines, hence minimising the risk of error.
Ventilated substructures
EFP also offers the EFP 50 HPPS system, a unique, high-performance cladding substructure system, which enables the construction of attractive cladding projects based on the principles of rainscreen façade technology, and with a panel joint of only 15 mm.
The joints can be covered by extruded joint profiles made of EPDM, silicone or aluminium.
The system – pressure-equalised, mullion-drained and thermally-broken – is designed for various substructures like aluminium composite panels (ACP), terracotta or stone panels. The 50-mm-wide mullions and transoms are suitable for sloped and vertical facades.
EFP has recently developed a new cladding substructure system with an open joint of 12 mm only. The panels can be easily installed with adjustable sliding brackets that slide into the guide profiles. Various guide profiles, either with box- or T shapes, are available which are suitable for various applications, including blind walls or floor-to-floor spans.
Louvres & sunshade blades
EFP's louvre and sunshade systems help limit a building's solar heat gain and reduce the energy consumption in air-conditioning. They can be fully integrated into EFP curtain-wall systems, either stick or unitised.
Skylights
In addition, EFP has developed a complete system of skylights that don't require any steel support structure. The tried-and-tested EFP skylight systems, which uses a combination of rafters, transoms and dome ridges, allow for variable designs to be executed efficiently and reliably, either structurally glazed or with cover caps.
According to the spokesman, the main advantages of EFP skylight systems include their variable glass thickness, complete compatibility with EFP curtain-walls, 50-mm-face-width profiles, and the possibility of having operable vents.
References
EFP International has provided its systems for projects in various sectors across the wider region, including the GCC, the Indian Subcontinent, Europe and the UK, and North Africa.
In the UAE, its most recent projects include Dubai Creek Harbour Plot 30, where 23,350 sq m of conventional glazed stick curtain-walling including hinged doors and top-hung windows has been supplied; R P Heights, where 25,166 sq m of structural glazed stick curtain-walling including hinged and swing doors and top hung windows are being used; Expo 2020 Dubai – Mobility and Sustainability District; and DIFC Gate Avenue.
Some of its key projects in the region include the Al Anoud Tower, Fairmont Hotel Riyadh, Adex Building, Rosh Rayhaan by Rotana Hotel, Damac Twin Towers, Jazan University Administration Building and Saudi Arabian Monetary Agency in Saudi Arabia; Kuwait Cancer Centre, Sheikh Abdulla Al Salem Cultural Centre and Al Farwaniya Court Complex in Kuwait; Al Maktoum International Airport, control tower and technical offices in the UAE; Gulf Hotel in Bahrain; and Hilton Hotel Doha, Al Sadd Sports Stadium and Dolphin Tower in Qatar.
More Stories