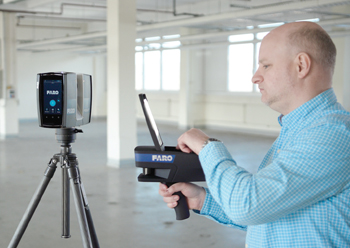 Faro's mapper offers easy 2D floor plans
Faro's ScanPlan now allows AEC professionals to quickly capture 2D floor plans by gathering an accurate overview of the entire scan site in the time it takes them to simply walk through it.
May 2019
Faro now makes capturing and visualising 2D floor plans easy for architecture, engineering and construction (AEC) professionals through its lightweight, handheld mapper – the Faro ScanPlan.
The device is controlled using a smartphone, which is placed in a cradle located on top of the device.
"By using the familiar interface of an easy-to-use smartphone application, even the most complex buildings can be captured within a few minutes," says a spokesman for Faro, a trusted source for 3D measurement, imaging and realisation technology.
"Latest improvements to the ScanPlan were added last month. These will allow AEC professionals to save time and money by gathering a fast and accurate overview of the entire scan site," he adds.
Faro says the product targets all AEC professionals, who need to quickly and accurately capture 2D floor plans and require documentation or other feature data linked to these plans. Simultaneously, ScanPlan performs well on construction sites, for example, for recording intermediate construction stages in quality assurance.
Elaborating on the device, the spokesman says ScanPlan's main feature is to capture 2D floor plans as quick as you walk.
"While walking through the scan site, floor plans appear as they are being captured in real-time. This allows users to immediately see what was captured. And the visual interface makes it easy to confirm that everything wanted has been captured before you leave the building. The compilation of multiple floors in one project is supported."
Furthermore, the 230-degree wide-angle field of view makes it easy to map around corners, behind doors, and other hard-to-reach areas. In this way, complex and nested buildings can be captured in the time it takes to simply walk through the rooms.
Captured floor plans are optimised and vectorised, and simple evaluations, such as area calculations, square footage or distances, are provided.
The scanned project can be immediately shared on-site with partners involved as PDF or DXF files. This makes it possible to use the data in any CAD system for further modelling without additional conversion for a smoother and more efficient workflow.
ScanPlan also allows critical details of the building, such as junction boxes and pipes, to be documented with photographs and annotations and added to the 2D floor plan. Photos are inserted in the plan at the geometrically correct position. Other documents, such as Word and Excel files, can also be linked to the plan at definable positions.
Wirelessly connected to a 360-degree panoramic camera, ScanPlan's PanoCam feature allows users to collect panoramic images, localised in the 2D floor plan, for a 360-degree overview of the building.
Additionally, all partners involved worldwide get immediate access to the captured data after exporting them into Scene WebShare Cloud, without having to visit the site.
"This export functionality allows users to experience captured images in virtual reality (VR), while VR presentations can be created in just a few minutes without any additional effort once the capturing process is completed," the spokesman says.
Furthermore, for owners of a Faro Focus laser scanner, the Scan Assist feature offers considerable added value.
"Scan Assist automatically calculates the best 3D laser scanner positions based on the recorded 2D floor plan for a comprehensive coverage of the scan site and a fast overview of the entire scan situation," says the spokesman.
ScanPlan will provide AEC professionals a report on the total number of needed laser scans and estimated scan time, allowing a more accurate and faster 3D scan-job quotation. The whole scanning process is simplified by the ScanPlan navigating users to the recommended scanning point.
The Scan Localiser functionality facilitates pre-placement of individual scans especially when missing scan overlaps impede proper registration of 3D scans.
By transferring the ScanPlan position to a Faro Focus laser scanner, single 3D scans are already pre-positioned and roughly aligned to each other. This simplifies and accelerates the ensuing final registration in Faro Scene software.
Faro provides solutions to record as-builts easily, quickly, and accurately. Company hardware and software capture as-built architecture, plants, and topography terrain and enable the evaluation of this data in CAD and building information modelling (BIM) models.
The captured data can be matched with existing digital models. Furthermore, CAD geometry can also be projected back into reality with Faro solutions on construction sites and workshops.
Further information can be found at www.constructionBIM.faro.com.
More Stories