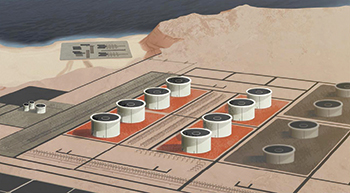 Duqm refinery work makes headway
May 2019
Steady progress is being made on Oman's mega refinery project in Duqm region with nearly 13 per cent of the engineering, procurement and construction (EPC) work already completed.
This includes excavation, concrete pouring for foundations of buildings and the construction of pipe-rack, according to Duqm Refinery and Petrochemical Industries Company (Duqm Refinery).
Duqm Refinery is a joint venture between two regional oil giants – Oman Oil Company (OOC) and Kuwait Petroleum International (KPI). The project is being handled by three EPC contractors. These are a joint venture between Técnicas Reunidas and Daewoo Engineering & Construction Company for EPC Package One (process units); a Petrofac-Samsung Engineering JV for EPC Package Two (utilities and offsites) and a joint venture between Saipem SpA and CB&I for EPC Package Three (offsite facilities).
A total of 4,769 workers have been mobilised by all EPC contractors with 3,275 at site to start the initial works of the construction, said the developer.
Under the EPC1 package, civil and foundations works will continue at site for civil packages besides setting up pipe rack foundations, tanks, pits and roads. Reinforced concrete superstructure work, foundation works on buildings and excavations for underground piping is currently under way, it stated.
The EPC2 package involves the build-up of the temporary site facilities including warehouse construction and completion of offices. Fencing also continues, as well as excavations and foundation works for the main substation 490 and administration buildings, said Duqm Refinery.
The construction work on EPC3 sub-package (C) has started with general site clearing, blasting and fill works to allow the start of foundations for tanks, said the developer.
Furthermore, excavation work has completed. In addition, 25 cabins and 10 office modules have been delivered and installed for the temporary construction facilities, it stated.
The project has clocked a total of 3.7 million man-hours with zero lost time for fatalities or injuries. Also, more than 1,000 safety inductions have been provided along with 10,000 job-specific safety employee training sessions, it added.
On the project, CEO Dr Salim bin Saif Al Huthaili said: "Once delivered, the refinery project will contribute in boosting the Omani economy and will be a catalyst for growth in the Special Economic Zone of Duqm."
"It will also contribute to the emergence of other industries in the zone and will contribute in creating direct and indirect job opportunities for locals," he added.
More Stories