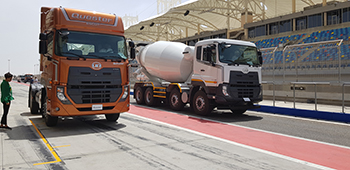 New Quester geared to tackle Gulf's challenges
May 2019
The new Quester heavy-duty truck from UD Trucks International of Japan (part of Volvo Group) tackles fuel costs and driver shortages through the Escot automated manual transmission (AMT) and its wide class configuration offering, making it a highly competitive vehicle for various applications in the Middle East and Africa (MEA) region.
The new range is a solution to the challenges faced by the regional market, such as payload, long-haul demands, and complex fleet management, apart from fuel costs and driver shortage.
UD Trucks' solutions including Escot, a greater payload, more horsepower, increased driver comfort, and advanced telematics make the Quester a comprehensive commercial vehicle.
Gulf Construction's ABDULAZIZ KHATTAK was amongst a media team given an exclusive preview to the new truck and a chance to test drive it at the Bahrain International Circuit last month.
Considering that a truck driver has to shift gears 1,000 to 1,500 times a day, the Escot is a breather not only for the driver, but also provides overall gains in operational costs, cutting down on costly wear-and-tear replacements.
Fitted on the new Quester purely on market demand, the Escot – which stands for 'Easy and Safe Controlled Transmission' – combines the advantages of manual and automated transmissions, providing better drivability and fuel efficiency of up to 10 per cent. Following a simple shift pattern, the Escot also has a manual 'up and down' switch.
A smart transmission control unit with advanced software and reliable sensors selects the best gear to work at best optimum engine level depending on the speed, road conditions and load. With the Escot, the clutch lifespan is extended by up to three times.
Escot technology was first introduced in 1995. Since then, more than 90,000 models fitted with the technology have been sold around the world.
The PWR+ mode on the Escot gives the truck increased power for tough road conditions. Further enhancing fuel efficiency are the Eco mode, cruise control and Eco-Roll options.
A new hydraulic transmission retarder delivers enhanced braking torque, allowing the vehicle to maintain a steady speed while going downhill without using service brakes. This helps reduce brake wear and reduces the risk of accidents due to brake fade.
Other braking options include auxiliary and exhaust brakes, anti-lock braking system, and full S-cam air brakes.
All new Quester models also come with a choice of six-, nine- and 12-speed manual transmission.
The new Quester comes in a wide range of axle configurations including 4x2, 6x2 and 8x4 rigid; and 4x2, 6x2 and 6x4 tractor, and 34- to 48-tonne classes. There are two new fuel-efficient engine types – the eight-litre GH8E and 11-litre GH11E that produce a maximum of 280 and 440 hp respectively.
Quester was first launched in 2013 and has since found itself increasing in favour with operators in the region.
According to Murad Hedna, president of UD Trucks Mena region, the trucking industry in the region is changing as it is worldwide, with the total cost of ownership gaining a lot of importance among customers.
"Our aim with the development of the new Quester was firstly, to address the challenges faced by transportation companies; and secondly, to help customers boost their profitability. And so with the new Quester, we have worked on the areas of fuel efficiency, the need of more talented and skilled drivers, boosting productivity, safety and more uptime."
He says it took the company four years to develop the Quester taking into consideration the needs of the market and customers.
Jacques Michele, president of UD Trucks International, calls Quester a game changer. With the transportation industry functioning in a very challenging environment, competition, and demand of cost and efficiency is very high, he says.
He sees a lot of potential for the truck in the region, with construction and infrastructure development gaining momentum, and requiring heavy-duty and efficient trucks.
"UD Trucks has been in the Mena region for half a century now and is seeing and meeting these new demands. There is also concern for the environment, and we ensure our trucks are highly fuel efficient," he says.
Other concerns include safety and a shortage of skilled drivers. "In fact, retaining drivers and shortage of skilled drivers are among the biggest challenges in the region," Michele says.
UD Trucks supports smart logistics and aims to tackle business challenges and accelerate growth in the MEA region. And part of the solution to maintaining fuel efficiency and safety is its advanced telematics services, which help operators keep track of their vehicles 24/7. The geofencing feature allows to set the fastest and most direct routes, and draw boundaries thus helping optimise operational costs by maximising vehicle uptime. It also improves safety across the fleet, leading to lower insurance premiums.
In addition, the system allows to generate driving behaviour reports which are said to have led to 60 per cent reduction in serious unsafe events. Meanwhile, fuel reports alert of any fuel loss. Offered as a mobile app in addition to web based, the service provides fleet operators with instant alerts if things are not going according to plan.
Comfort & maintenance
Big changes have been made in the Quester's cab, which now offers a double bunk, the highest roof sleeper cab for any Japanese manufacturer and a better layout ergonomically. Vibration in the cab has been reduced by 80 per cent, meaning less fatigue for drivers.
The issue of servicing and maintenance is tackled through service agreements and quick availability of genuine lubricants and critical uptime spare parts.
The vehicle comes with a warranty of two years or 300,000 km, and parts warranty for a full two years. The service interval can be extended.
UD's successes
Hedna says UD Trucks has developed a comprehensive range of vehicles dedicated specifically to the Mideast region by taking into consideration the tough local conditions and feedback from clients. The Quester, he says, was launched to cover the construction, long-haul and distribution segments.
He says UD Trucks is offering total solutions to customers, including comprehensive and tailor-made service agreements and telematics so they can reduce costs and increase profitability.
To further support customers, UD Trucks has an advanced warehouse – one of the best in the group worldwide – in Dubai to supply them with genuine parts as fast as possible.
"We are trying hard to switch from a pure transactional trading mindset to a customer support focused and service one," says Hedna.
All this has helped make UD Trucks a preferred choice and increase its share in many local markets. In Bahrain, Hedna says UD Trucks has a 40 per cent market share.
The company has won major projects especially in waste management across the Gulf, thanks to its wide configuration offerings both in the Quester and Croner ranges.
"Special focus was laid on waste management simply because we have a complete range of heavy- and medium-duty trucks, and not many players have that in the market. In addition, we offer great flexibility, offering any truck variant required," says Hedna.
In Jeddah, UD Trucks has more than 100 trucks managing waste. For a waste management project in Riyadh, the company has supplied more than 100 trucks and is still supplying.
A key success for UD Trucks last year was securing a major waste management project in Abu Dhabi, keeping in view that Europeans brands had a monopoly in this segment - making it the first time that a non-European brand was chosen. UD Trucks has more than 100 trucks to be delivered for the Abu Dhabi project.
Currently, Hedna says there are two other key projects in the pipeline and these will be disclosed in three to four months' time.
Commenting on UD Trucks' edge over competitors, Hedna says: "Tough market conditions have compelled sub-contractors and public corporates to look for trucks that can not only do the job well but fit their budget too. They are no longer looking for brand prestige."
UD Trucks has created awareness that it can provide whatever the market requires with its heavy- and medium-duty ranges. "We also provide the flexibility that suits the waste management segment," he says.
Both the Quester and Croner are designed to make superstructure installation easy. Bodybuilding for specific applications including compactor, vacuum unit, skip loader, or dropside with high side make them ideal for adaptation.
In waste management, UD Trucks enjoys 25 per cent market share.
Hedna adds that UD Trucks is working on local assembly facility projects in three countries in the MEA region – one in the GCC, and one each in East and North Africa, without disclosing the exact locations.
UD Trucks' takeover by the Volvo Group in 2007 has had a positive influence on the company including the group's strength to invest in UD trucks, its global retail network, and access to innovation, manufacturing footprint, technology, says Michele.
Future technologies
In terms of innovation, connectivity and electromobility, UD Trucks has some big projects in the pipeline. It has drawn up ambitious plans to work on future trends, including autonomous driving, says Michele.
He says testing is under way and indicates that there may be news by the year-end from Japan about a UD truck with Level 4 autonomous driving capability – when the media will be given a demonstration of UD's first autonomously driven truck on the Quon platform.
More Stories