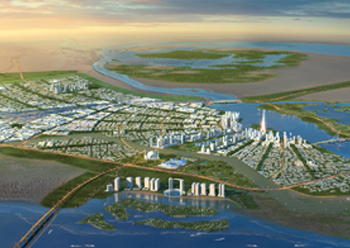 Ample opportunities
With work now set to move ahead on the $82.2-billion Silk City and other mega developments, Kuwait appears to be on course to pursue its ambitions and complete delayed projects with private sector involvement.
June 2019
There has been a perceptible improvement in Kuwait's construction sector this year with the government looking poised to drive its vision for progress hand in hand with the private sector.
One such indication is the revival of the KD25-billion ($82.2 billion) Madinat Al Hareer (Silk City) which has been on the backburner since it was mooted with much fanfare in 2006 (see Gulf Construction, June 2006).
Kuwait announced in February that it has joined hands with China to spearhead this massive development in Subiya, whose masterplan includes the Burj Mubarak Al Kabir tower, a nature reserve, a duty-free area, a new airport, and other facilities. This partnership also involves the development of five other Kuwaiti islands.
Another project that has brought cheer in the sector is opening of the Sheikh Jaber Al Ahmad Al Sabah Causeway. The completion of the 37.5-km bridge that extends from the capital Kuwait City to Subiya is encouraging in a country that has traditionally been dogged by delays. Also, its completion facilitates progress on the Silk City, as it provides a vital link to the project site.
Kuwait witnessed yet another dull year during 2018, when project awards declined for the third consecutive year, with only KD1.7 billion in awards – the lowest since 2009. However, the outlook for this year is expected to improve as some of last year's delayed projects are rolled over into 2019, according to the National Bank of Kuwait's (NBK) latest Economic Update.
Contract awards are expected to be in the vicinity of KD4.4 billion in 2019, driven mainly by major construction projects, as well as overdue projects in the transport and power and water sectors, the report says. The pace of awards in 2019 so far has been promising, with a total of KD700 million contracts signed as of April. NBK adds, however, that given the low execution rate of recent years, the figure of KD4.4 billion still looks optimistic.
According to the report, awards in 2018 were hindered by numerous delays, setbacks, and cancellations. Kuwait has attempted to make progress with its public-private-partnership (PPP) programme, which has suffered from structural, technical, legal and financing issues. Setbacks in 2018 may also be attributed to the restructuring of Kuwait Authority for Partnership Project (KAPP), along with a review of the Public Authority for Roads and Transportation's (PART) mandate, it adds.
One of the major construction contracts that have been awarded this year is Al Jahra low-cost housing city, a KD432-million Public Authority for Housing Welfare (PAHW) project, which will consist of 9,800 units over 830 hectares, and is expected to be completed in 2030. Other notable construction projects on the anvil for this year are the development of Mubarak Al Kabeer seaport project and the Ibn Sina Hospital, with a combined value of KD439 million. These projects are currently in the main contract pre-qualification stage, and are likely to be tendered soon, according to the report.
Fitch Solutions, an industry-leading provider of credit, debt market, and macro intelligence solutions, forecasts construction value growth of 2.5 per cent in 2019 and then an annual average of 3.3 per cent between 2020 and 2028.
In its latest infrastructure report on Kuwait, it says the government's ambitious diversification 'Kuwait 2035' initiative and the expansionary budget will help to lift Kuwait's construction sector out of contraction in 2019 and beyond. However, growth will remain below potential, given the typically poor implementation rate of the capital expenditure budget and ongoing barriers in the business environment, namely red tape, which result in delays to project implementation.
Fitch Solutions indicates that Kuwait will allocate $15 billion to infrastructure projects in the next fiscal year. This will help underpin growth across the country's construction sector over the course of the next decade.
The report points out that Kuwait has significant room to weather economic difficulties, given its large oil production capacity and roughly $592 billion in sovereign wealth reserves. Rising oil prices will boost the government's fiscal position and allow it to spend more on infrastructure. However, the downside is that the country's lengthy and difficult tendering process, heavy bias in favour of Kuwaiti firms, and a lacklustre competitive landscape. Other drawbacks faced by the sector are the poor operating environment, with excessive red tape, lengthy project delays and previous problems related to payments to contractors, it points out.
The Kuwaiti non-residential and residential construction sector is expected to recover strongly over the coming years, after four years of contraction to 2018. Its industrial infrastructure segment will be the key driver of this recovery, buoyed simultaneously by oil and gas-related projects and industrial projects, according to the infrastructure report.
Silk City
Kuwait and China signed a deal in February to develop the KD25-billion Silk City, a 250-sq-km development in Subiya. Initial talks covered the first phase of the mega project, which aims to establish a regional trade zone in Mubarak Port, a logistics area for goods, an international airport and railways and an industrial city.
Chinese Construction and Communications Company will help initiate the collection of data, and develop a works programme for the investment, implementation and operation of Mubarak Port for Phase One, either through long-term leasing or through public-private partnerships, according to Kuna news agency.
Transport
Kuwait's transport infrastructure will show robust growth over the coming decade, increasing by an annual average of 3.4 per cent between 2019 and 2028, as the government seeks to establish the country as a regional logistics hub and channels investment into the sector, according to Fitch Solutions.
Meanwhile, the NBK indicates that the transport sector is expected to see large awards in 2019, with KD73 million awarded so far and KD1.4 billion still in the pipeline. Many of these projects were postponed from 2018 due to structural issues with PART, but cannot be delayed further and have been the subject of political pressure. Notable planned projects include the Northern and Southern regional roads, with a combined value of KD405 million and the airport expansion, Phase One, valued at KD150 million.
Major developments under way are the new state-of-the-art terminal (T2) at Kuwait International Airport. Among the latest contract awards for the aviation hub was the appointment of Obermeyer, one of Germany's oldest engineering consultancies, to manage key future projects at Kuwait International Airport. The five-year contract envisages management of current and planned ventures, such as building the third runway and a new observation post.
Future projects for the airport include overhauling the western runway and building three others, two observation towers, and additional passenger terminals after the completion of the T2 terminal.
In July last year, a $61-million contract was awarded for the design and expansion of the runway adjacent to T2. During the same month, Kuwait International Airport officially opened its new terminal (T4), which was built at a cost of $174.5 million.
Various projects are also set to get the go-ahead for the development of the $16-billion Mubarak Port, which is being constructed by Hyundai (South Korea). These include road linking the port with the main highway, a yard for containers, administrative buildings, customs area, equipment handling zone and marine dredging works.
Kuwait last month inaugurated the Sheikh Jaber Al Ahmad Al Sabah Causeway, the world's fourth longest high-speed bridge spanning 37.5 km across Kuwait Bay, reducing the commuting time between Kuwait City and Subiya to around 20 minutes instead of one hour. The landmark bridge has been built by Korean building giant Hyundai Engineering & Construction (Hyundai E&C) along with the local Combined Group under a $2.62-billion contract awarded in November 2013.
A key project that is eagerly awaited in this sector is the $7-billion metro rail project, which reportedly has been approved. The 160-km Kuwait Metro Rail system, which will be built over five phases, is expected to include 68 stations.
Housing
Firms from China and Korea are a playing a major role in supporting Kuwait's efforts to address its housing shortage, which is expected to widen to 175,000 units by 2020, up from 110,000 at end-2015.
Among the housing projects is the South Al Mutlaa Housing development, which involves a total construction area of 100 sq km, and will accommodate 400,000 people after completion. China Gezhouba Group Corporation (CGGC) started work at its 30-sq-km site at the development in April 2017.
Kuwait's Ministry of Housing and Public Works is currently delivering a total of 6,000 new residential units in three batches under this project.
Meanwhile, in January this year, Korea Land and Housing Corporation (LH) signed a contract with Kuwait to take charge of the masterplan for South Saad Al Abdullah New City, which is expected to be the country's first smart city and provide homes for 25,000 households.
Private developers are also expected to participate in the development of a number of housing projects including the Mutlaa Residential Project, Al Subiya Residential City and Sabah Al Ahmad township.
Power & Water
With various energy-intensive petrochemical and industrial ventures and construction of new housing cities in progress, the Ministry of Energy and Water (MEW) expects demand for electricity to increase by 17 GW by 2030. According to the NBK, KD800 million worth of projects are expected to be awarded this year in the sector, most notable of which is the KD400-million Al Dibdibah Solar Power Plant in Shagaya Renewable Energy Park, that is currently under bidding.
Shagaya Renewable Energy Park will provide 150,000 houses with power round the clock. Phase One includes a plant with a 70 MW capacity – comprising 50 MW solar energy, 10 MW solar photovoltaic (PV) and 10 MW wind energy. Phase Two will produce 1,500 MW solar PV, Phase Three aims at generating 1,500 MW of mixed-technology energy and the final phase aims to generate 1,000 MW of electricity.
Meanwhile, KAPP has made progress on its two major planned independent water and power projects (IWPPs), the Al Zour North and the Al Khiran IWPPs and is in the process of appointing a transaction advisor for both projects in 3Q of 2019 and in 2020 respectively, according to a media report. In addition, the MEW is expected to award its Al Nuwaiseeb 1 IWPP, in 2020.
Hydrocarbons
Kuwait National Petroleum Company (KNPC) plans to invest $40 billion to modernise and boost its refining capacity to 1.4 million barrels per day in 2022. This includes the new Al Zour refinery and the Clean Fuels Project.
Al Zour refinery is part of the Al Zour Crude Oil Complex, being built at an investment of $27 billion, which also includes liquefied natural gas (LNG) processing facilities and a petrochemicals complex.
Some 80 per cent of the $16-billion refinery project is already completed, which once operational will boast a capacity of 615,000 barrels of crude per day. More than 65 per cent of the LNG processing facilities has been completed while the much-awaited Al Zour petrochemical complex, valued at KD3 billion and delayed from 2018 due to technical and financing setbacks, is expected to get under way next year.
Work is also well advanced on the Clean Fuels Project, where Fluor Corporation's joint venture team, FDH JV, successfully generated first steam in November last year – marking the completion and turnover of the first utility units by the joint venture.
This project is being executed on the three KNPC-owned and operated refineries in Kuwait. As part of the project, KNPC plans to retire the existing processing facilities at Shuaiba and a major upgrade and expansion of the Mina Al Ahmadi and Mina Abdullah refineries to integrate the refining system into one complex with full conversion operation.
The Fluor-led joint venture with Daewoo Engineering & Construction and Hyundai Heavy Industries is responsible for engineering, procurement and construction as well as associated pre-commissioning and testing support for the Mina Abdullah Package 2. After commissioning in 2020, both the Mina Abdullah and Mina Al Ahmadi refineries will have a capacity of 800,000 barrels per stream day to supply local and international demand for clean fuels meeting stringent environmental requirements.
Meanwhile, a KD144-million contract was awarded in April for Kuwait Oil Company's new gas export pipeline. The 150-km-long pipeline will transport natural gas from North Kuwait to the refinery in Mina Ahmadi.
A further KD432 million worth of oil and gas projects are expected to be awarded later this year, according to the NBK.
Other Projects
• The New Jahra Medical City project, one of the largest healthcare development projects in the Middle East, was opened in July. The KD365-million project includes a 1,234-bed hospital, a dental facility with 115 treatment rooms and a regional health administration building. It also features a women's centre; trauma centre and 32 operating suites.
• Work is progressing at a steady pace on 264,000-sq-m Sheikh Jaber Al Abdullah Al Jaber Al Sabah International Tennis Complex. Planned to open later this year, the complex will include the headquarters of the Kuwait Tennis Federation as well as eight open-air courts; a 5,000-seat covered multi-purpose arena; a 1,600-seat centre court; a fitness centre; a five-star hotel; retail and dining venues, and ancillary facilities. The developer of the project is Tamdeen Group.
• The 1.02-million-sq-m South Jahra Labour City has received the go-ahead as a build, operate, and transfer (BOT) scheme.
More Stories