Events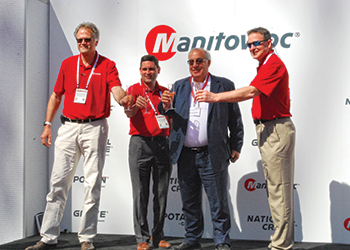 Manitowoc marks NFT partnership
April 2017
Manitowoc Cranes held a special ceremony at Conexpo 2017 in Las Vegas, US, last month to celebrate its successful partnership with UAE-based NFT Specialized in Tower Cranes, the premier Potain dealer in the Middle East.
NFT Specialized in Tower Cranes is an Abu Dhabi-based dealer of tower cranes, passenger and material hoists, and various other equipment. The company has several locations throughout the Middle East, Asia, Europe, Africa and Australia, with more than 1,500 tower cranes in its fleet.
Manitowoc Cranes commended NFT for its solid sales performance in 2016, during which it sold 122 Potain tower cranes.
Buoyed by its regional growth, NFT purchased three more Potain tower cranes: an 11 USt MR 160, a 15.4 USt MR 225 and a 22 USt MR 295 at Conexpo 2017.
More Stories