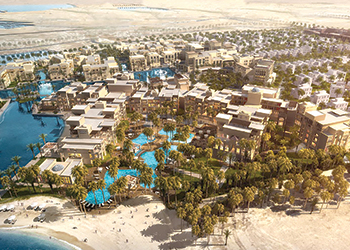 $1bn waterfront hub on way
May 2017
Oman's Ministry of Tourism has signed a strategic agreement with Amouage Hotels & Resorts to develop Naseem A'Sabah, a premium waterfront development within an integrated mixed-use community.
Amouage Hotels & Resorts will be the main developer and investor of the project, which is located on the northern shore of Al Mawaleh in Seeb in Muscat Governorate, and is part of an integrated tourism complex (ITC). The project covers a total area of 400,000 sq m, and will be implemented in two stages, with construction work on the first phase to start next year.
Naseem A'Sabah, valued at RO400 million ($1.03 billion), will be a residential tourism complex designed to accommodate more than 1,200 housing units and hotel rooms. It will have a world-class five-star hotel, and a business hotel with 600 rooms. It will also feature a marina and yacht club, as well as a mixed-use resort village comprising restaurants, cafes, shops and commercial outlets, office suites, various restaurants, and many other recreational and service facilities.
The agreement was signed by Ahmed bin Nasser Al Mahrizi, Minister of Tourism; Mamas Christodoulides, chairman of Amouage Hotels & Resorts; and Mohammed Al Khalidi, who is a partner in the project.
Al Mahrizi said: "Naseem A'Sabah is one of the integrated tourism complexes projects, which will help further strengthen the infrastructure of the sector, upgrade the quality of services, create various leisure and service facilities, and ensure the optimal use of tourism components while achieving added value for the economy."
More Stories