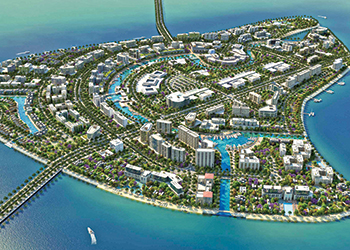 In brief
May 2017
Dilmunia to build $137m mall
Bahrain-based Dilmunia Mall Development Company has launched work on a unique family-centric mall concept over a 26,754-sq-m area in the heart of Dilmunia Island, within the Muharraq Governorate, at an estimated cost of BD52 million ($137 million).
The main contractor of the project is Bahrain-based Cyprus Cybarco Tabet JV, while the architectural design has been readied by Singapore-based DP Architects.
A first-of-its-kind retail destination in the kingdom, Mall of Dilmunia will boast more than 200 retail outlets on a total built-up area of 125,000 sq m besides the kingdom's first state-of-the-art indoor ice-rink. Work has already started on the project and is scheduled for completion in October 2019.
Work starts on China-Oman park
Oman's Special Economic Zone Authority at Duqm (Sezad) celebrated the laying of the foundation stone for the China-Oman Industrial Park in Duqm, a project with investments expected to cross $10 billion till 2022, said a report.
During the ceremony, a total of 10 agreements were signed between Wanfang Oman and some Chinese companies to implement $3.2 billion worth of projects at the park in Duqm, added the report.
The projects include building a manufacturing facility for solar energy equipment, a water desalination plant, a power plant, a five-star hotel, and a building materials factory, among others.
Arcadis helps deliver Festival City
Arcadis, a leading global design and consultancy firm, has successfully helped to deliver Doha Festival City, which opened in Qatar last month.
Doha Festival City is a stunning mixed-use development that will be home to more than 500 retail units. It incorporates Qatar's first Ikea store, full-sized Monoprix hypermarket, Ace hardware store, and a range of entertainment options including a snow park, Angry Birds and Virtuocity theme parks, and an 18-screen Vox 4D cinema complex.
iGuzzini opens lighting centre
Leading architectural lighting manufacturer iGuzzini has launched its first working Light Experience and Training Centre in the Gulf region in Bahrain.
Founded in 1959 in Italy, the company produces indoor and outdoor lighting systems in collaboration with the best architects, lighting designers, universities and research centres in the world.
The new Light Experience and Training Centre has been launched in conjunction with iGuzzini's longstanding distributor Al Bait, with over 30 years of collaboration in the region.
$148.4bn hotel projects on way
The total value of the GCC's 1,153 hospitality projects exceeded Dh544.62 billion ($148.2 billion) in the first quarter of 2017, according to BNC Network, a leading project research and intelligence provider in the region.
The GCC's hospitality industry constitutes seven per cent of all active projects in the GCC's urban construction sector. In dollar terms, hospitality projects account for 13 per cent of the total estimated value of the region's urban construction sector, the latest BNC Intelligence, issued by BNC Network, shows.
More Stories