Regional News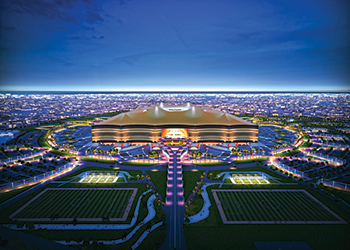 Stadium work well under way
May 2017
Construction of Al Bayt Stadium – Al Khor City is in full swing with 40 per cent of structural work on the proposed host venue for the 2022 Fifa World Cup Qatar now completed, said a top official.
Aspire Zone Foundation project director for Al Bayt Stadium – Al Khor City Dr Nasser Al Hajeri said: "Work on the site is progressing on schedule, with 40 per cent of the stadium structural work and 25 per cent of the construction work for the surrounding precinct already completed.
"The area around the stadium will include facilities for the community and green areas. There are currently 3,000 construction workers on site, and workers' welfare continues to be a top priority as we advance with construction on this unique stadium which will leave a legacy for the community after the tournament."
The retaining wall that will support the next two levels of the stadium's overall weight has also been erected, and will ultimately be the main support of the stadium's state-of-the-art retractable roof that will take just 20 minutes to close. The venue will have an overall height of 37 m.
The site team recently began installation of the first fix of 2,500 seats at the north stand of the 60,000-seat stadium. After the tournament, the stadium's capacity will be reduced to 32,000 seats, with the upper tiers donated to countries in need of sporting infrastructure. The upper concourse of the stadium will then be converted into a hotel. A shopping centre and a branch of Aspetar, the leading sports medicine facility, will also be incorporated into the structure.
More Stories