UAE Focus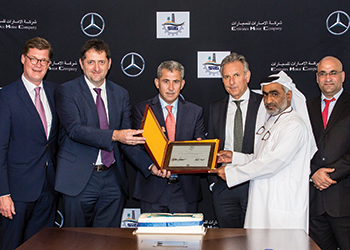 Daimler supplies 27 Zetros trucks
May 2017
Daimler Commercial Vehicles Mena has partnered with Emirates Motor Company (EMC), the authorised general distributor of Mercedes-Benz in Abu Dhabi, to deliver 27 Mercedes-Benz Zetros 6x6 tractor-heads to Suhail Al Mazroui Transportation and Heavy Equipment Establishment.
Part of the fleet deal is the 5,555th Zetros produced, which was handed over in the presence of Stefan Buchner, the head of Mercedes-Benz Trucks Europe/Latin America, Till Oberwoerder, head of marketing, sales and services Mercedes-Benz Trucks, and Roland Schneider, the president and CEO of the regional office of Daimler Commercial Vehicles Mena in Dubai.
Bilal Al Ribi, the general manager for commercial vehicles, and Hany Tawfik, the general sales manager Mercedes-Benz Trucks, both representing EMC, also attended besides Rashed Suhail Helal Al Mazroui, the CEO of Suhail Al Mazroui.
The 27 Mercedes-Benz Zetros 3643 AS come with a powerful 12-litre six-cylinder engine sporting 428 hp and providing a gross combination weight (GCW) of 116 tonnes.
The all-wheel drive cab-behind-engine trucks stand out with their extreme off-road capabilities and superior driving comfort in difficult terrain, perfectly matching the high demands in the oil and gas segment.
More Stories