UAE Focus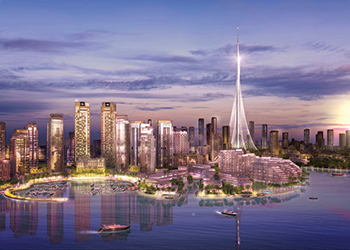 Foundation laid for harbour tower
May 2017
Emaar Properties said The Tower at Dubai Creek Harbour is all set to rise with the successful completion of the pile foundations for the 928-m-high skyscraper.
The 6-sq-km Dubai Creek Harbour sits by the Dubai Creek, overlooking the Downtown Dubai skyline and is near the Ras Al Khor Wildlife Sanctuary.
Soon, the first structural facets of the skyscraper will be visible with several teams already on site to accelerate the development work.
According to Emaar, it has set a new world-first with the foundation work for The Tower. The pile was tested to a load of over 36,000 tonnes – the maximum carried by a single foundation pile to date – and a statement on its strength and durability, stated the developer.
More than 145 barrette piles have been used to form the foundation for The Tower at Dubai Creek Harbour, designed by Spanish-Swiss architect Santiago Calatrava Valls.
With super-strong foundation, The Tower will leverage the latest advances in construction and engineering for its completion before Dubai's Expo 2020, when it will open doors with several observation decks that offer 360-degree views of the city and beyond.
Among The Tower's features are the Pinnacle Room and VIP observation garden decks that recreate the splendour of the hanging gardens of Babylon.
More Stories