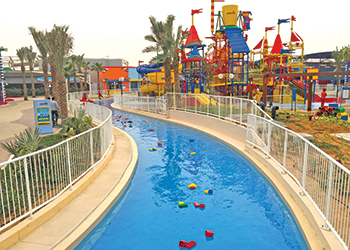 Legoland gets 'miracle' coating
May 2017
VIP provided lining of high strength and durability for 22,000 sq m of concrete at the Legoland and Legoland Water Theme Park in Dubai, UAE – and did it ahead of schedule.
Voelkel Industrie Produkte (VIP) rose to the challenge when commissioned to single-handedly provide full structural sealant support to line more than 22,000 sq m of concrete of key theme parks in Dubai, UAE.
These include Legoland and Legoland Water Theme Park, which were opened during late last year as part of the new Dubai Parks and Resorts (DPR).
The entire project presented a highly pressurised challenge for VIP Coating International. With a tight deadline for completion, coupled with a colossal projected footfall, VIP executed solutions that were fast acting, long lasting, highly waterproof and safe to line more than 22,000 sq m of concrete – all of which was completed ahead of schedule, in only 45 days, says a spokesman for the Dubai-based coatings specialist.
"With a theme park open all year round in the sweltering Dubai heat, there was a strong requirement from the client to provide an industrial lining of incredible strength and durability, that also had to be aesthetically pleasing and able to withstand prolonged sunlight and corrosive salt water, while being swim-safe and fish-friendly," says Alex Voelkel, managing director of VIP.
VIP Coating International handled a total of eight sub-projects in the amusement park. They included the jet ski pool; under-sea adventure pool; aluminium roof sandwich panels and gutters; Mini Land indoor Lego structures; wave pool; Lazy River pool; underground surge, turbine, and potable water tanks; and La Pita Hotel with Lazy River area.
Although the project consisted of mainly new concrete substrates, considering the diverse landscape of an amusement park, VIP developed custom coating solutions for concrete substrates, composite wood substrates, PVC (polyvinyl chloride), steel, and iron substrates as well.
However, despite these significant challenges and the tight schedule involved, all sub-projects were finished well ahead of schedule and to the customer's satisfaction, says Voelkel.
Following its success on this project, VIP has been a key solution provider to other projects including re-facing the running track in JBR, reinforcing the docks of the Jumeirah fishing harbour, anti-bacterial lining at Sheikh Hamdan's Falcon Hospital, in the UAE; and Saraya Bandar Jissah lagoon in Oman, among others.
VIP's product, often referred to as a 'miracle coating', has made the company a pioneer in the market that specialises in manufacturing polyurea adhesives. It acts as a waterproofing membrane that expands and contracts, simultaneously, retaining elasticity and structure. It sprays and dries seamlessly in less than five seconds and can be customised to any colour requirement with multiple finishes.
The coating is also Water Regulations Advisory Scheme (WRAS)-approved and therefore anti-bacterial, ensuring water that passes through it remains drinkable and clean, according to Voelkel.
More Stories