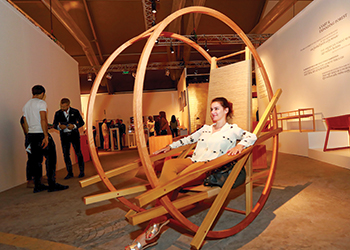 Something sustainable to sit on
May 2017
A fascinating approach to working with timber was showcased in Dubai, UAE, during the recent Design Days Dubai, the region's annual fair dedicated to collectible modern and contemporary design works.
Seven unique pieces of furniture, designed and made by prominent UAE-based designers, were displayed as part of the 'Seed to Seat' furniture collaborative unveiled by American Hardwood Export Council (AHEC), the leading international trade association for the American hardwood industry.
Given an open brief and asked to design 'something to sit on', the designers had worked closely with AMBB Furniture Manufacturing and created the seven furniture pieces using American tulipwood, red oak and cherry.
The Dubai event was the second phase of Seed to Seat' which aims to highlight the sustainable credentials of the American hardwood resource and was initially launched in Australia and New Zealand last year.
"Our collaboration with the seven designers and AMBB Furniture Manufacturing has resulted in a fascinating approach to working with timber, which has made a comeback over the past few years," says Roderick Wiles, AHEC director for Africa, Middle East, India and Oceania.
"Seed to Seat was conceived as a way for AHEC to collaborate with high-profile designers and to introduce them to US hardwood species that are less well-known in their markets."
With Seed to Seat, AHEC aims to identify the true environmental impact of design and build based on its Life Cycle Assessment (LCA) research for 19 American hardwood species.
Wiles says this unique exercise has not only thrown the spotlight on the beauty of American hardwoods but it has also helped the designers explore the creative potential of underutilised and yet readily-available hardwoods from America.
One of the pieces was me+mine – a beautiful, sculptural sphere that demands attention because of the precise curves and the striations of the tulipwood – designed by Pallavi Dean of Pallavi Dean Interiors. The dominant theme was transformation.
The Float by George Kahler of Kahler Design, created using tulipwood, facilitates relaxation, offering perfect equilibrium to its user. Ribbench by Tarik Al Zaharna (T.ZED Architects) is yet another demonstration of the strength of tulipwood. Whilst technically a hardwood, tulipwood is a softer material that has been detailed into an interlocking main frame.
The Rock 'n' Roll Chair by Fadi Sariedinne (Fadi Sarieddine Design Studio), crafted using tulipwood and American red oak, pushes the boundary of the classic rocking chair by completing the arc of the legs, thus creating a full circle.
Heriot Watt chair by Bruce Paget (Heriot-Watt University – Dubai Campus), created with American cherry, is loosely inspired by the prevalent method and aesthetic method of construction in contemporary Dubai – the concrete frame and rainscreen combination.
Pause by Hana Akram (Studio EM), featuring American red oak, is a modular seating system that aims to connect literally and figuratively. It explores the hidden potential of human interaction.
Finally, Oblong by Anna Szonyi (Studio Anna Szonyi) is a formal experimentation, which aims to bridge the tension and misfit between organic and engineered objects as inspired by the Seed to Seat brief. Crafted with American red oak, it captures an intermediate formal state during the physical transformation of an organically-shaped object to a perfect geometric cube.
For each design, AHEC has also calculated how many seconds it would take for the wood used to make the piece to be replaced through natural regeneration in the US hardwood forest.
Factoring in the size of the forest, annual harvest rates, natural mortality and regeneration rates, AHEC has calculated that it would take a mere 3.32 seconds for all the wood used to grow in the forest.
More Stories