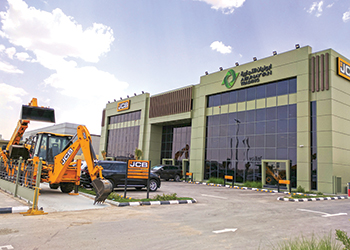 Abunayyan wins JCB dealership
May 2017
Abunayyan Trading Corporation (ATC) has formed a powerful business relationship by signing an exclusive distributor agreement with one of the top global manufacturers of construction equipment.
The Saudi-based company is now the exclusive distributor for JCB equipment in Saudi Arabia and will sell, service and maintain JCB backhoe loaders, compaction equipment, tracked excavators, telehandlers, skid-steer loaders and wheel loaders throughout the kingdom.
JCB has had a prominent market presence in Saudi Arabia for more than 25 years and its products can be seen engaged on projects – both big and small – throughout the country.
ATC is a member of Abunayyan Holding Strategic Business Units (SBUs). The latest agreement is part of ATC's ongoing strategy to adopt and provide the latest and innovative technologies solutions, and is an important milestone for ATC in particular and Abunayyan Holding Company as a whole.
The agreement was signed at ATC's headquarters in Riyadh in the presence of top management from both the companies, including president and CEO of Abunayyan Holding Khalid Abunayyan, ATC CEO Allam Al Khalidi and managing director ATC/JCB Saide Hamoucha. Representing JCB were CEO of JCB Company Graeme McDonald, managing director sales Guy Robinson, group dealer development director David Lumley-Wood, regional director Middle East Marco Bersellini, and the rest of JCB's Middle East team.
Commenting on the agreement, Al Khalidi says: "We are pleased to announce our relationship with JCB, a very trusted name that has greatly contributed to the construction industry throughout the world. We share more than just common objectives with JCB. More importantly, we share the same core values of providing services and solutions that gain customers' trust and guarantee their satisfaction."
He says ATC is committed to providing Saudi Arabia with the world's best and most innovative and advanced solutions, "and this relationship with JCB will help us achieve that".
On his part, McDonald says: "We are pleased to align with an industry leader like Abunayyan to serve the growing construction equipment market in the Middle East."
He adds that Abunayyan's expertise and network will allow JCB to best serve the Saudi market by bringing to the relationship an experienced management team and a focus on providing superior customer service.
Hamoucha is confident this association with JCB would elevate ATC to a front runner in the construction equipment market with an ability to offer full packages and solutions to customers in the country and in the region.
"To be recognised as the best partner is an endorsement of ethos of doing business, which focuses on customer service, and continuous improvement to bring innovation and differentiation, building long-term relationships with our partners and a professional and experienced team. We look forward to many more years of delivering a world-class ownership experience to our customers," he says.
Hamoucha, who assumed the top position in October 2016, sees the Abunnayan/JCB partnership as "providing solutions for life".
The strategic partnership has hit the ground running with great confidence and a commitment to service and spare parts availability for the JCB product range, he tells Gulf Construction.
New investments include the recently inaugurated 5,500-sq-m state-of-the-art facilities in Riyadh with further JCB mega-bases being established across Saudi Arabia. JCB will also be utilising the extensive network of 23 Abunnayan branches across the kingdom for technical and service support.
"Our strategy is to be always close to our clients with JCB expertise available to clients for all aspects of the JCB product portfolio. In addition, JCB has mobile workshops to further serve the clients in the field and in remote locations," he adds.
Hamoucha emphasises that Abunayyan is a family business similar to JCB with clear operational lines built upon engineering and service excellence. Product managers can reach top management to ensure that clients are best served by the efficient Abunayyan and JCB management structures, he adds.
ATC is a trusted name in the power and water business, providing integrated solutions across the water, wastewater, power, heavy machinery and parts, and logistics sectors. It partners with the most respected international companies to develop and bring new solutions to the market.
Its parent company Abunayyan Holding was founded in 1950 to supply diesel-powered water pumps to farmers, permanently transforming the nation's irrigation methods. The company that began as a family business has blossomed with an impressive portfolio spanning 14 strategic business units in eight operation sectors. It employs more than 4,500 people worldwide.
JCB is one of the world's top three manufacturers of construction equipment that produces a range of more than 300 machines.
More Stories