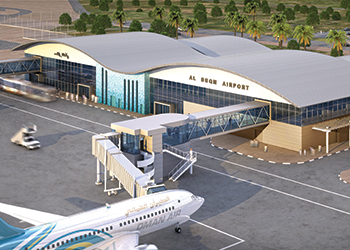 January launch for Duqm airport
July 2017
A new terminal building at Duqm airport in Oman, which began operations three years ago, will be ready to receive around 500,000 passengers per annum by January next year, said a report.
Leading Indian engineering and construction firm Larsen & Toubro (L&T) is building the terminal and other related facilities at the airport.
Besides the new hi-tech terminal building, the airport will also have a cargo building, fire-fighting building and several other support facilities.
The greenfield airport, which started early operations with five weekly flights between Muscat and Duqm, will have facilities such as two air bridges, four remote aircraft stands, a 4-km-long runway and two link taxi ways, reported the Times of Oman.
In fact, the airfield infrastructure at Duqm International Airport was completed some years ago and the airport presently uses a temporary terminal, said Lee Chee Khian, chief executive officer of Special Economic Zone Authority at Duqm (Sezad).
According to him, the passenger traffic between Muscat and Duqm is very good. The majority of passengers travelling on the route are employees working in Duqm or those who travel for project-related work.
Duqm airport will serve as a new gateway to a region which has significant economic, industrial and commercial potential, said Khian.
The development of regional airports, which also include Sohar and Ras Al Hadd, are part of a major government initiative to build airport infrastructure to meet the increasing travel demand of tourists, businessmen and local community, he added.
More Stories