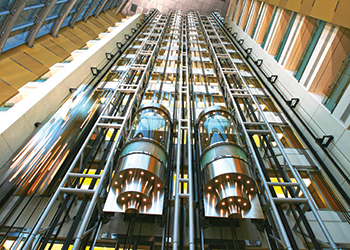 Kone rises to regional demands
July 2017
Kone is bringing the latest in vertical transportation to the GCC, which is seeing a rise in demand as cities grow bigger and buildings taller.
Kone has risen to new heights in the region with major orders secured recently – two of which are for key transportation hubs in Saudi Arabia and Bahrain respectively.
In March this year, the company announced it has been awarded a mega order for the new metro being built in the Saudi capital. Under the deal, Kone will supply 418 elevators and escalators for Line Three, the longest of the six lines of Riyadh Metro – which has 22 stations across its 41-km stretch. The order includes 156 elevators, 96 of which are scenic, in addition to 262 escalators.
This order follows another landmark project announced in January for the supply of 145 elevators and escalators for the new passenger terminal building at Bahrain International Airport (BIA). The order is part of an extensive modernisation project at the BIA aimed at making the development one of the most modern and futuristic airport buildings in the world.
BIA is expected to handle 14 million passengers annually from the current nine million. The airport currently hosts more than 40 airlines and is home to the kingdom's national carrier Gulf Air. Kone will supply 85 elevators, 40 escalators, and 20 autowalks equipped with Kone E-Link monitoring to the project.
Kone provides industry-leading eco-efficient elevators, escalators and autowalks and holds more than 3,000 patents. Its mission is to improve the flow of urban life and make these journeys safe, convenient and reliable, according to Mohammed Samaha, business development manager.
"It is by understanding urbanisation; focusing on improvements for people and anticipating the needs and opportunities for people, that we develop innovations and breakthroughs which help improve buildings' people flow systems and make our cities better places to live in," Franc Fernando, company product manager, tells Gulf Construction.
Commenting on meeting demands in the region, Fernando says: "All Kone machines are gearless which has advantages for the Middle East such as making the equipment more efficient, while facilitating installation, and ensuring less heat emission and reduction in wear and tear due to lower maintenance requirements."
Amongst Kone's most popular models in the region is Kone MonoSpace. This machine-room-less elevator has become the industry standard since its breakthrough in the mid-1990s. "The MonoSpace elevator was the first of its kind in the industry," says Fernando, adding the new technology was quickly adopted following the launch.
Another Kone product which enjoys good demand is the Travelmaster 110 escalator. "Powered by Kone's most efficient drives systems, the Travelmaster 110 offers up to 20 per cent more energy efficiency than the conventional drive solution," he explains. "Smart operational modes and an all-new inverter optimise energy consumption under different load conditions. Additionally, the LED lighting lasts up to 10 times longer and is 80 per cent more efficient than fluorescent lighting."
Now with buildings getting taller and more complex, Kone offers solutions to meet the new demands created by these structures.
The super-light Kone UltraRope technology provides unrivalled elevator eco-efficiency, reliability and durability, while also improving elevator performance. It eliminates the disadvantages of existing steel ropes and enables elevator travel heights up to 1,000 m.
Another innovation is the Kone JumpLift, a self-climbing elevator that uses the hoist-ways of building when it is under construction, following the framework as the building grows taller.
Fernando says the solution provides faster, safer and more reliable elevator service during construction. "It improves people and material flow efficiency by up to 20 per cent, and can consequently shorten overall construction schedules which means a quicker return on investment," he adds.
A product that can significantly improve convenience in buildings while boosting elevator traffic handling capacity and performance is a destination control system (DCS) like Kone Destination.
"With cities in the Middle East becoming increasingly vertical, it is important that a building can handle the traffic," says Fernando, adding that guiding users to the most appropriate elevator with a DCS means less crowded cars, shorter travel times and fewer unnecessary stops.
"While conventional elevator control systems only register the desired travel direction, Kone Destination takes into account the number of waiting passengers and their desired destination floors to significantly improve efficiency and convenience," he adds.
As a company, Kone is constantly evolving to adapt to the needs of the industry. For the sixth year in a row, Forbes has listed Kone as one of the world's top 100 innovative companies.
With new ecosystems emerging around smarter cities and smarter buildings, Kone sees a huge potential in the integration of building design with elevators, escalators, services and other utilities, in the most sustainable ways possible.
Kone backs its innovative products with efficient after-sales support in the region. The Kone Customer Care Centre includes 24/7 support for any equipment-related support.
"Our service technicians are dedicated and highly trained professionals who keep your elevators and escalators working smoothly and safely around the clock. They receive over 50 hours of technical, safety, customer service, and first aid training every year. Our technicians also have access to our global technical knowledge base, enabling fast problem solving for all brands and types of equipment, and resolving most issues in a single visit," says Fernando.
Commenting on business in the region, Samaha says: "Business has been fluctuating from one market to another in the past year. Markets such as the UAE and Egypt have been growing faster compared to other markets in the region."
He says every country has sectors that could provide good opportunities. These are related to well-known events such as the Expo 2020, Fifa World Cup 2022 and other events happening in different countries in the region.
Samaha says Kone is strengthening its presence in emerging markets such as North and East Africa, with efforts on to cover all market segments, whether it is public transport, residential or offices.
Kone offices in the region are located in the UAE, Qatar, Oman, Saudi Arabia and Bahrain. For the rest of the Middle East, Kone is present through distributors and joint ventures. In 2016, Kone had annual net sales of €8.8 billion ($9.84 billion), and more than 52,000 employees (more than 1,900 in the Middle East alone).
More Stories