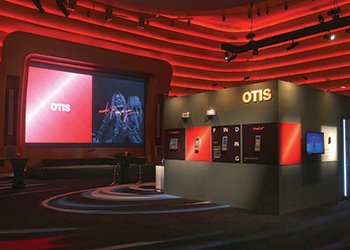 Otis launches new elevator products
July 2017
Otis, a top manufacturer of people-moving products, has introduced its latest products and service initiatives in the Middle East, including the connected Gen2 Life elevator and the expanded Otis SkyRise product family.
The Gen2 elevator was the first product of its kind to replace conventional ropes with flat belts, and is one of the company's best-selling elevators with more than a half-a-million units sold worldwide.
Today, as the number of tall buildings in the region continues to grow, the latest version of the platform, the Gen2 Life elevator, will play a bigger role than ever in meeting the demand for modern, seamless elevators, says a spokesman for Otis.
The new Gen2 Life elevator cab serves as a fashionable and functional room in the core of the building, combining new interior designs with smart, connected functionality, including a customisable in-cab display and the ability for passengers to easily call the elevator from their phone.
"With an increasing focus on connectivity and functionality in the region, Otis is focused on providing cutting-edge products and services as never seen before," says Maged Nagib, vice president and managing director, Otis Middle East. "Otis has been the undisputed industry leader for 164 years, and we are keen to see our vision for the future brought to life in the Middle East through our latest innovations."
Otis also recently expanded its SkyRise product family, designed for the world's tallest buildings. New to the SkyRise system is the SkyBuild construction elevator. At the initial stages of construction, the self-climbing SkyBuild elevator uses a hydraulic piston system to move one floor at a time as the building rises. Construction teams can use it to move through the building quickly and safely, and are not exposed to weather conditions and do not require an external lift. Once construction is complete, the SkyBuild elevator transitions for immediate service as a SkyRise elevator.
"As the number of high-rise buildings continues to increase and more people move to cities, Otis is continuing to lead the way for safer and more innovative elevators. The introduction of the state-of-the-art Gen2 Life elevator and the SkyRise product family benefits everyone from construction crews to the people who use elevators every day," adds Nagib.
More Stories