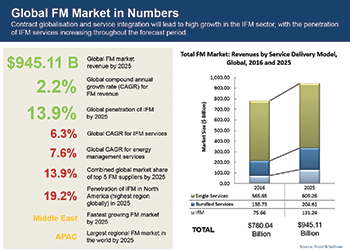 Mideast FM in radical shift
August 2017
The region's FM sector is going through a major change; pricing pressures and new technology are challenges to that the industry needs to cope with, says a Frost & Sullivan report.
The facility management (FM) sector in the Middle East is at an inflection point, where past success recipes will cease to hold relevance, in light of increasing convergence, and the emergence of competition from unconventional sources, according to Frost & Sullivan, a global growth consulting firm.
Service delivery quality and robustness of portfolio will be defining forces that will influence the emergence of growth opportunities, states the company's building technologies team.
This is critical to note for an industry in the GCC that has been severely strained over the last two years, being impacted by a slowdown in construction, cash flow issues, and relatively low degree of sophistication, it adds.
"The return of pricing pressures, shift in authority to the customer, and uncertainty relating to the role that FM should play in the overall landscape of building management services, are major challenges that FM companies in the GCC need to address on their path to achieving growth," says Suganya Rajan, the energy and environment research analyst at Frost & Sullivan.
"A much-needed overhaul of service-level agreements is yet to take off in the region. Many technologies are on the verge of breaking into the region, including Internet of Things (IoT), Big Data, 3D printing, energy management, and the shift towards command centre models for managing buildings," she adds.
According to her, this will force FM companies to re-look at the role that a chief technical officer (CTO) or chief information officer (CIO) would play in their structure, and companies with a strong visioning process would surge ahead in the market.
"For instance, FM companies must prepare to have their own 3D printers and necessary consumables to reconstruct spares and parts of the building that require maintenance or repair," Rajan says.
The white paper from Frost & Sullivan's building technologies practice, 'Disruptions in the GCC FM Industry', closely examines the threats and opportunities facing the GCC FM market.
The study reveals that just acquiring intelligence on the market is no longer sufficient. Frost & Sullivan has recommended companies that desire to enhance their positioning in the market to revisit their viewpoints – especially those relating to technology, customer management, and partnering.
The Kuwait, Oman and Bahrain markets, though relatively smaller, also present a favourable environment for FM companies to operate and grow within, says Rajan.
"However, the larger players will also face challenges, especially in terms of increasing growth and ramping up internal processes to cater to the increased portfolio they are managing," she points out.
Firms that wish to accelerate their growth will also need to look at how they attract and retain talent, while focusing on managing the impact of convergence, she says.
The Gulf region's FM industry is at the crossroads of change, and it is essential for FM service providers to imbibe global best practices after working hard towards customising them to meet local nuances, according to Rajan.
"Ultimately, we can expect to see a number of smaller or inefficient companies just winding up, which would provide an ideal market for transactions in what has been a relatively inactive market in the past," she concludes.
More Stories