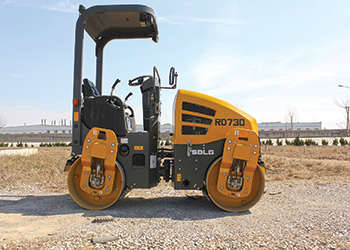 SDLG gears up to meet demand
August 2017
Global construction machinery manufacturer SDLG has launched its first asphalt compactor for the Middle Eastern and African (MEA) markets.
The growing infrastructure efforts in the region is creating increased demand for equipment that is both reliable and affordable, says a spokesman for SDLG, adding that the new compactor is aimed at meeting this demand.
The new compactor is a double-drum model that places emphasis on durability and solid technology. "The SDLG RD730, a three-tonne capacity double-drum asphalt compactor, is the flagship model of a new generation of hydraulic, double-drum vibratory rollers from SDLG," he says.
Shahir El Essawy, SDLG's business director in the region, points to a high level of infrastructure work in Africa and the Middle East as the reason behind the launch of the asphalt compactor.
"In the Middle East, recent projects, such as the opening of a 62-km highway from Abu Dhabi to Dubai, show that demand is increasing for reliable construction equipment that can maintain uptime on the job site and return on investment for their owners," he says.
The SDLG RD730 is ideal for these types of projects, as it provides a great value proposition, houses reliable technology and is supported by a global leader in construction equipment, he adds.
SDLG has been making inroads in the regional market. One recent deal saw the Chinese firm supply 58 machines to a Saudi Arabian company for a nation-wide road maintenance project.
More Stories