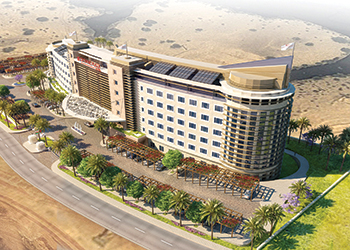 OCEC precinct to open in mid-2018
August 2017
Master-developer and tourism company Omran said work on Phase Two of the Oman Convention and Exhibition Centre (OCEC) was progressing well and the project was on track for completion by
June 2018.
The fully-integrated OCEC precinct – which includes four hotels (two under construction and two in the planning phase), a future shopping mall and commercial business park – is heading towards completion.
The soft-launch of the much-anticipated Crowne Plaza is on track for October, bringing over 296 hotel rooms to business and leisure travellers visiting the OCEC and Madinat Al Irfan, said the Omani developer. The JW Marriott Hotel is set to be fully operational in June 2018, bringing a further 304 rooms to the destination, it added.
Phase One of the purpose-built exhibition centre is already open to visitors, while the second one is at an advanced stage with all the structural, civil and MEP (mechanical, electrical and plumbing) works nearing completion, said Omran.
The focus is now shifting to the finishing and fit-out works, it added.
Developed by Omran within Madinat Al Irfan – a world-class, urban mixed-use development, OCEC is located only 4 km from Muscat International Airport.
Work on Phase Two of the project, which includes a multi-purpose hi-tech auditorium with a 3,200-seat capacity and a banquet centre, featuring two large ballrooms, a theatre of 450 seats, meeting rooms and the central food-court, is in full swing.
While the Oman Convention and Exhibition Centre is being planned for operations by June 2018, the banquet centre will be available for booking for events ahead of completion, said the developer.
The area offered for investment in Phase One in Madinat Al Irfan is estimated to be 1.6 million sq m, which enjoys a unique topography and picturesque vistas.
More Stories