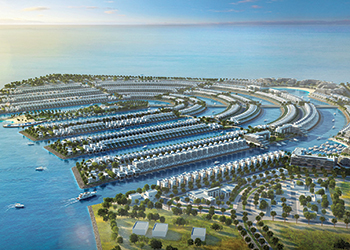 In brief
August 2017
SSH wins Bahrain waterfront deal
SSH, one of the leading masterplanning, building design and infrastructure firms in the Middle East, has been awarded a contract by Manara Developments to provide the design and construction supervision of infrastructure for its upcoming Hasabi Waterfront Development in Bahrain.
A mixed-use project, Hasabi Waterfront Development boasts three- and four-bedroom residential villas, each with a private jetty, as well as sea-view restaurants and coffee shops, beach facilities and residential buildings three and four floors high.
The scope of work for SSH involves the design and construction supervision of infrastructure works for the project, which includes the design of all road and utility networks.
$207m warehouse leasing contract
Qatar-based Barwa Real Estate Group has signed a leasing contract worth QR755 million ($207 million) with Mohammed Hayil Group for Trading and Contracting for its warehouse project, Mustawdaat, in Doha.
The Mustawdaat project is one of Qatar's key initiatives to meet the market demands of affordable storage areas The project, which has a total built-up area of 273,113 sq m, includes the construction of a residential compound for the employees, offices, 38 retail shops and a mosque, in addition to all the necessary infrastructure.
ABC Bahrain records huge growth
The Arabian Business Community (ABC) Bahrain Edition has generated over three quarters of a million business referrals in the first six months of 2017 for Bahrain companies listed on the rapidly growing business portal.
ABC Bahrain promotes 160 popular business categories covering the consumer, commercial, construction, industrial and oil and gas sectors.
"ABC Bahrain has in the first six months of 2017 generated more enquiries than the total number of business referrals to companies in Bahrain in the whole of 2016," said Ronnie Middleton, managing director of Al Hilal Group, the driving force behind the ABC Portal.
MB Crusher appoints distributor
MB Crusher, a leading Italian manufacturer of crushing, demolition and recycling equipment, has appointed Q-Fab (Qatar Welding & Fabrication Supplies) as its exclusive distributor in the country.
As per the distribution arrangement, Q-Fab will be responsible for the sale of MB Crusher's complete range of products including its crusher and screening buckets, sorting grapples and drum cutters besides providing service and support for them in Qatar.
Kuwait to build new labour city
Kuwait will soon invite bids for a project to build a new city in the northern Al Jahra governorate of the country that can accommodate nearly 20,000 expatriate workers, said a report.
The 'Southwest Al Jahra labour city' would be the first such project to be offered as a joint partnership with the private sector, reported the Arabic language daily Al Nahar, citing a senior minister.
"We are preparing documents for the project so it will be offered to the private sector on a PPP (public-private partnership) basis," stated Kuwait's Minister of State for Municipal Affairs Mohammed Al Jabri.
The government is planning such similar projects with private partnership," he stated.
The project would be completed in 2021, he added.
Carrier launches cooling systems
Carrier, a global leader in high technology heating, ventilation, air-conditioning and refrigeration (HVACR) solutions, is introducing two new innovative cooling solutions for the Middle East.
The new XPower variable refrigerant flow (VRF) system and AquaForce 30XV air-cooled screw chiller were recently launched at exclusive events held in Dubai and Abu Dhabi that attracted more than 200 industry experts.
These highly efficient and versatile products are being introduced into the emirates through UTS Carrier, a joint venture company between United Technical Services (UTS) and Carrier Corporation.
More Stories