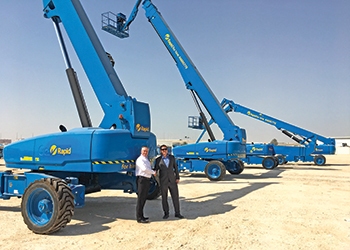 Rapid Access to get 334 Genie lifts
August 2017
Rapid Access, a leading provider of powered access solutions in the Middle East, has taken delivery of the first of the 334 units of the new-generation Genie boom lifts and scissor lifts it has ordered from Terex, a leading manufacturer of lifting and material handling solutions.
Rapid Access is part of the world's third largest powered access rental company Loxam, having a fleet of over 4,000 units in the region.
The new fleet acquisitions include a broad mix of telescopic Genie SX-180, Genie SX-150 and articulating Genie ZX-135/70 boom lifts, as well as Genie Xtra Capacity (XC) telescopic SX-135 XC and SX-125 XC models offering working heights from 131 ft up to an impressive 186 ft, and horizontal reaches ranging from 69 ft 9 inches to 80 ft.
With deliveries ongoing around the GCC region, these state-of-the-art Genie boom lifts are 'firsts' for the Qatar and Kuwait markets where they will serve to support safe work at heights in the construction of multiple infrastructure projects.
Besides the reliability, operational simplicity and performance that Genie machines are known for, these models have advanced technology and new features.
"Their extensive range of motion, and the extreme precision and manoeuvrability provided by their Genie telescoping jib-extend design and new Genie Mini XChassis are among the key features that we were particularly impressed by," remarked Michael Maynard, the regional director, Rapid Access.
"In addition to increasing onsite manoeuvrability, the Mini Genie XChassis notably allows for transport on standard low-bed trailers which makes transport easier and helps reduce costs. The increased lift capacities and new tri-entry baskets that come with these Genie boom lifts are ideal for the market," he added.
James Davis, the country manager for Rapid Access in Qatar, said: "Given the number of hotels and malls that already exist, plus the large number of other projects such as stadiums that are currently being built, we are expecting rental demand for high level boom lifts in the construction and facilities management sector to be strong."
"To support customers' requirements, we selected large Genie boom lifts, including the Genie SX-125 XC, SX-135 XC, ZX-135/70, SX-150 and SX-180 models, because they offer working heights of 40 m up to 56.8 m, a broader working envelope and faster and easier positioning for working in tight spaces with high-precision," said Davis.
The Genie Xtra Capacity (XC) models included among the units ordered by Rapid Access are adapted to tasks that demand the ability to lift heavier loads from 300 kg up to 454 kg in the restricted zone.
Davis said these models from Terex also boast zero-load field calibration.
More Stories