Regional News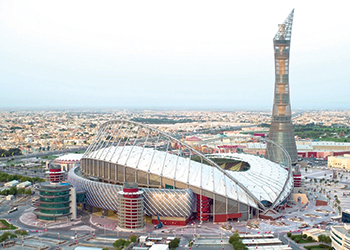 World Cup builders mull Qatar exit
August 2017
Major Western contractors who are in Qatar for the execution of the infrastructure projects related to the Fifa World Cup 2022 are drawing up departure plans amid fears that its continuing dispute with Gulf neighbours could delay the country's £160-billion ($206 billion) construction programme, the Arab News said, citing British media reports.
A World Cup supplier, who declined to be named citing client sensitivities, warned fresh sanctions could shift the dial in favour of companies leaving, the British newspaper Telegraph reported.
Qatar is entering into a crucial phase of its build up for the Fifa tournament, with British and American firms, including star architects Foster + Partners, Zaha Hadid Architects, engineer Arup and US programme managers CH2M and Aecom, playing leading roles on World Cup stadium projects.
FTSE 250-listed contractors Interserve and Carillion, consultants Turner & Townsend, Gleeds and RLB also have a presence in Qatar.
A lawyer working with the Qatari government however downplayed the talk of contingency planning as an 'over-reaction by weak bosses in boardrooms' and claimed Qatar's ally Turkey could step in to help build projects, said the report.
More Stories