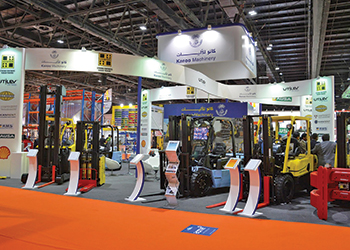 Expo to focus on $5bn market
August 2017
The market for materials handling equipment in the GCC is set to maintain a compound annual growth rate (CAGR) of more than four per cent while reaching an estimated $5 billion in revenues by 2020, said the organisers of an upcoming trade fair citing a Frost & Sullivan report.
Saudi Arabia, with about 46 per cent and the UAE with 35 per cent, make up the largest markets in the region and are expected to continue to spearhead market expansion going forward.
Key drivers for the continued expansion in demand for materials handling equipment, continues to be the ongoing focus of the GCC countries on large-scale infrastructural and logistics development.
Realising the potent growth potential of the regional market, the top 20 of the world's leading materials handling systems suppliers have already signed up for Materials Handling Middle East 2017, which will run from September 11 to 13, at the Dubai International Convention and Exhibition Centre.
With more than 130 exhibitors from as many as 21 different countries, representing 250 brands, having already signed up for the upcoming ninth edition, the region continues to be a key focus of leaders the intralogistics, warehousing, freight and cargo industries.
"As the only dedicated trade and business development event for the materials handling, logistics, warehousing and freight handling industries, Materials Handling Middle East has through the years served as an invaluable networking and interactive platform for industry stakeholders, suppliers, traders and buyers to conduct business and scope out the latest developments in the industry," said Ahmed Pauwels, CEO of organiser Messe Frankfurt Middle East.
More Stories