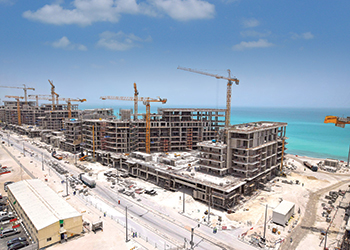 Saadiyat sanctuaries
September 2017
Construction work is in progress on three major residential projects on Saadiyat Island, which will offer a selection of premier lifestyles within Abu Dhabi's cultural hub.
The projects which are being spearheaded by Tourism Development & Investment Company (TDIC) – the master developer of major tourism, cultural and residential destinations in Abu Dhabi – include Mamsha Al Saadiyat, the first-of-its-kind residential development which offers beachfront living; Jawaher Saadiyat, a golfing community; and Saadiyat Lagoons District, which lends itself to a nature-inspired lifestyle.
Mamsha Al Saadiyat
Structural works have been completed on all the buildings within the first phase of Mamsha Al Saadiyat, which is progressing on schedule for completion in the third quarter of 2018.
Being developed in two phases, the project comprises five plots, each approximately 250 m long with the first phase featuring three low-rise buildings with their own community facilities, retail areas and dining outlets.
"As the first residential development of its kind, Mamsha Al Saadiyat reflects a reinvention of beachfront living through its first-class facilities and amenities set within walking distance of each apartment and townhouse," says a spokesman for TDIC.
Nestled in the heart of Saadiyat Cultural District, Mamsha Al Saadiyat will offer a range of retail and food and beverage (F&B) outlets, as well as panoramic views of pristine beaches and natural landscapes.
Featuring 7,802 sq m of retail and dining floor space across nine medium-rise residential towers over 1.4 km of the beach, the 461 units available feature 414 apartments or lofts with one to four bedrooms or five-bedroom duplex penthouses, measuring between 106 and 454 sq m in size. The remaining 47 units are townhouses, ranging from 227 to 315 sq m in size.
Each five-bedroom duplex penthouse is being designed to include a private swimming pool and terrace as well as two living rooms and a dining room, in addition to a maid's room and a driver's room.
"An exclusive selection of units was made available for purchase at this year's edition of Cityscape Abu Dhabi, following a successful first phase launch which witnessed the uptake of all available units within two days. Due to the increased demand for the project, we have recently released residential units in the new Azure 1 building," the spokesman says.
Jawaher Saadiyat
More than 22 per cent of the construction has been completed on Jawaher Saadiyat, with the foundations for all 83 within the residential development having been completed, according to TDIC.
The development, which faces the Saadiyat Beach Golf Club, will feature 83 four-bedroom townhouses and four six-bedroom overlooking the region's first beachfront championship golf course, a spectacular 317-acre, 18-hole course designed by South African golf champion Gary Player.
Expected to be completed during the latter half of 2018, the project is being built by main contractor Al Jaber Building under a contract awarded in July 2016.
Once complete, Jawaher Saadiyat will feature four- to six-bedroom villas and four-bedroom townhouses, designed with a contemporary lifestyle in mind. Both the villas and the townhouses include two to four garages.
The area will also offer future residents easy access to Saadiyat Beach and proximity to some of Saadiyat's high-end hospitality, cultural, educational and retail offerings, including international five-star resorts and leisure facilities within the Saadiyat Beach District such as the St Regis Saadiyat Island Resort, Park Hyatt Abu Dhabi, and the Saadiyat Beach Club.
Saadiyat Lagoons District
Comprising the largest residential development on Saadiyat Island, Saadiyat Lagoons District is set to feature contemporary townhouses and villas across two distinctive settings, a beachfront promenade of dining and retail establishments, an equestrian centre, and cycling and running trails.
Launched in 2016, Saadiyat Lagoons District's development is proceeding ahead of schedule and is expected to be complete by 2019. It will offer a fully immersive, nature-inspired lifestyle.
Entailing surroundings designed to support a compelling selection of activities such as cycling, horse-riding, and running, as well as a waterfront shopping and dining promenade with scenic views, Saadiyat Lagoons District is designed to appeal to a broad range of interests for families and individuals alike enthused by outdoors living.
A new sales centre was recently opened at Saadiyat Lagoons district, next to New York University Abu Dhabi.
Established in 2006, TDIC is shaping the real estate landscape of Abu Dhabi, with Saadiyat Island bolstering the emirate's position as a destination of distinction for tourists, businesses and residents.
Saadiyat Island is a destination defined by world-class leisure and cultural attributes. Its Cultural District is home to the single largest collection of renowned museums in one setting: Zayed National Museum, Louvre Abu Dhabi and Guggenheim Abu Dhabi, as well as prestigious educational institutions Cranleigh Abu Dhabi and New York University Abu Dhabi.
"We take pride in announcing that upon completion there will be few places that will rival what Saadiyat Island has to offer," says the spokesman. "Awaiting prospective residents are pristine beaches, comprehensive shopping and dining options including five-star hotels, family parks and play areas for children, as well as an equestrian centre, and a host of other amenities."
"Our projects continue to receive growing interest because of their promise of superior quality and finishings, unsurpassed and inspired quality of life on offer and close proximity to some of the Abu Dhabi's renowned tourism and cultural assets," he concludes.
More Stories