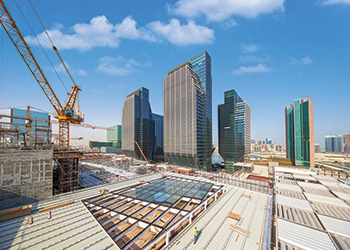 Maryah magnet
September 2017
Construction of Gulf Related's flagship development Al Maryah Central is proceeding on schedule, with the retail-led mixed-use development having been awarded the first of two building completion permits necessary to open the mall.
Set to become the anchor mall of Al Maryah Island which is located northeast of Abu Dhabi, Al Maryah Central will combine seamlessly with The Galleria's existing luxury and dining offer and is expected to transform the retail and entertainment experience of modern Abu Dhabi when it is completed next year.
The combination of the two projects – which together will offer a gross floor area of 2.8 million sq ft - will create a new neighbourhood in the heart of Al Maryah Island, with connectivity throughout the island linking Abu Dhabi's new financial district Abu Dhabi Global Market (ADGM); two luxury hotels – Rosewood Abu Dhabi and Four Seasons Hotel Abu Dhabi at Al Maryah Island; and Cleveland Clinic Abu Dhabi.
Commenting on the current status of work on the landmark development, Kevin Ryan, chief operating officer and managing director, Gulf Related, tells Gulf Construction: "Our Al Maryah Central project continues to progress on schedule with construction completion delivery in late 2018. In August, we completed our department store buildings as well as the entire section of the project that is located below street level, including all of our car-parks, loading docks, and other service areas, and received a completion certificate from the municipality for all of these components of the building."
"By the year end, we will finish full enclosure of the building, including facades, skylights and completion of roofing work."
He anticipates that the roofing work will be completed in the next three months.
Some 6,100 tonnes of structural steel and 27,000 tonnes of reinforcement steel, 169,500 cu m of concrete, 396 km of cabling, and 12,900 sq m of glass will go into constructing the new retail-led destination, which has a skylight roof of 882 sq m.
Already around 24 million man-hours to date have been dedicated to the construction of Al Maryah Central, says Ryan.
Given the space limitations of the confined site, the facility is basically a vertical structure featuring various bridges, enabling shoppers to access the mall from the basement car-park, levels Two and Three, and Four, where the main entrance is located on an elevated roadway. Al Maryah Central offers a total of 7,000 car-parking spaces.
The shopping, dining and entertainment hub will feature 400 popular mid- to high-end retail brands and more than 100 dining options, ranging from casual cafes to five-star dining. It will feature the first Macy's outside the US and the first Bloomingdale's in Abu Dhabi.
The mall will also have a 21-screen Vox cinema with Imax, which offers the exclusive dining experience Theatre by Rhodes, a collaboration with Michelin Star chef Gary Rhodes.
The mall is family-centric, hence family rooms - which are open to both mothers and fathers who have children – and toilets are provided on each level. There are 13 locations for family rooms throughout Al Maryah Central.
There are two other elements to the project – a residential apartment block of around 40 floors in height and a premium hotel with luxury apartments on the same site as the shopping mall.
"Al Maryah Central has a very high level of exterior and interior architectural finishes, with many interior areas designed to have a five-star hospitality feel, particularly at entrance points, waiting areas, passenger drop-off areas and VIP parking valet locations," Ryan points out.
Al Maryah Central will have over 100,000 sq ft of green, natural areas, some of which can be found on the lower and upper levels of the development. There will also be a park with water features open to families and children to enjoy.
"Al Maryah Central will provide a substantial boom to employment in the local area. The development of Al Maryah Central involves about 100 people, particularly skilled staff," he says,
Stakeholders involved in Al Maryah Central include Gulf Capital, Gulf Related, Related NY, Abu Dhabi Urban Planning Council (UPC), Mubadala, Al Tayer Group, Abu Dhabi Commercial Bank (ADCB), and ADGM.
"Al Tayer Group, Dubai Holding Group, Majid Al Futtaim Group, Chalhoub Group, and others have all signed leasing agreements to bring 60 more brands to Al Maryah Central, including a 35,000 sq-ft flagship Zara, All Saints, Lululemon, and Nars," the spokesman concludes.
More Stories