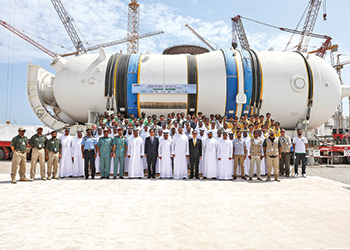 UAE nuclear plant marks milestone
September 2017
The Emirates Nuclear Energy Corporation (Enec) has made significant progress on the construction of the Barakah Nuclear Energy Plant in Abu Dhabi, UAE, with the installation of the steam generators for Unit 4, the final unit at the plant.
This milestone event coincides with the successful installation of Unit 4's reactor vessel (RV).
Enec CEO Mohamed Al Hammadi says: "The successful installation of the final reactor vessel and steam generators for the Barakah Plant is testament to the dedication of our teams on the previous milestones and for the upcoming plans."
Steam generators play a key role in the conversion of the energy generated by the nuclear fission reaction in the RV into electricity, which will eventually power homes and businesses throughout the UAE. The heat generated in the RV is transferred to the steam generator and turns water into steam, which is then used to spin a turbine and generate electricity.
The RV is one of the most important and largest components in a nuclear energy plant. Weighing over 500 tonnes and measuring almost 15 m in height, the RV will eventually contain the controlled nuclear reaction that will generate the clean, efficient and reliable electricity that will feed into the UAE grid. It is also one of the many defence-in-depth barriers that ensure the safety of nuclear energy plants.
The project at Barakah is progressing steadily. Unit 4 is now more than 52 per cent complete. Unit 1 is more than 96 per cent, while Unit 3 is more than 85 per cent, and Unit 3 is more than 75 per cent. Overall, construction of the four units is now more than 82 per cent complete.
All four units will deliver clean, efficient and reliable nuclear energy to the UAE grid, pending regulatory reviews and licensing. When the four reactors are completed, the Barakah Nuclear Energy Plant will save up to 21 million tons of carbon emissions each year.
More Stories