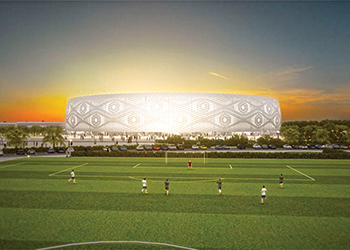 Qatar unveils design of sixth stadium
September 2017
Qatar's Supreme Committee for Delivery & Legacy (SC) has revealed the design for Al Thumama Stadium – the sixth venue for the 2022 Fifa World Cup.
Designed by Qatari architect Ibrahim M Jaidah, chief architect of Arab Engineering Bureau (AEB), the stadium is inspired by the 'gahfiya' headdress.
Hassan Al Thawadi, SC secretary general, said: "We've always been very careful to combine the past with the future in our designs. The gahfiya is a continuation of that theme. It's a blend of our heritage and culture, and a commitment to the future."
Al Thumama Stadium will be built on pitches currently used by the Qatar Football Association. The Al Thumama district is located in Doha's southern suburbs, 12 km from Hamad International Airport. The stadium will seat 40,000 fans in 2022, with the capacity reduced to 20,000 in legacy mode and the excess seats donated to a nation in need of sporting infrastructure.
Construction work has already begun, with the stadium due to be completed in 2020. The main contractor is a joint-venture between Qatari company Al Jaber Engineering and Turkey's Tekfen Construction.
AEB, the company responsible for the schematic design, is the oldest architectural and engineering firm in Qatar. Its extensive portfolio includes the Embassy of Oman in Qatar.
Jaidah believes the stadium will symbolise Qatar's emergence as a global sports hub. "The design is a nod to the past, while offering an exciting glimpse into Qatar's tomorrow," he said. "In Qatari culture, the gahfiya forms an important part of every young boy's pathway to adulthood."
Post-tournament, it will house a range of amenities, including a boutique hotel and branch of Aspetar Sports Clinic. The stadium precinct will become a community hub featuring facilities for numerous sports, including handball, tennis and swimming, among others.
Hilal Al Kuwari, chairman of the SC's Technical Delivery Office, believes the design highlights the historical bonds that unite the Arab world.
"This design is a welcome reminder of the historical bonds that unite the Arab world as one people. Given its rich cultural inspiration, this is another fantastic design that everyone in Qatar will be proud of," said Al Kuwari.
More Stories