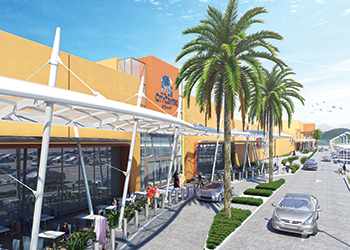 $117m City Centre Sohar on cards
September 2017
Majid Al Futtaim, a leading shopping mall, communities, retail and leisure pioneer, will grow its existing portfolio of malls in Oman with the new City Centre Sohar mall.
The mall, located in the Al Batinah North Governorate's capital Sohar, is due to open in late 2018.
"As part of Majid Al Futtaim's growth strategy, we aim to be at the forefront of Oman's rapid development in the retail industry and bring the best shopping, food and beverage and entertainment experiences to Sohar with this contemporary urban project," said Ghaith Shocair, chief executive officer shopping malls, Majid Al Futtaim Properties. "By introducing our renowned City Centre brand to Sohar, we will be enhancing the city's retail landscape with more than 130 diverse stores, a 8,400-sq-m Carrefour hypermarket, a nine-screen Vox Cinemas, in addition to dining and entertainment options.
With an investment of RO45 million ($117.11 million), City Centre Sohar will add 40,000 sq m of gross leasable area to the sultanate's booming retail sector and is conveniently located on Batinah Highway.
The construction contract for City Centre Sohar has been awarded to the Oman-based Al Turki Enterprise and the work will commence in November 2017.
City Centre Sohar has set a target to achieve Leed (Leadership in Energy and Environmental Design) Gold status, the coveted energy-efficient design certification – within three months of opening. This will include implementing sustainable building best practice with enhanced insulation, LED lighting and solar panels that will contribute to the centre's energy requirements. Furthermore, condensation from air-conditioning and ventilation systems will be used for irrigation.
More Stories